First Lady Of Oyo State, Nigeria To Keynote Luncheon At NGOs International Conference In Rockville, MD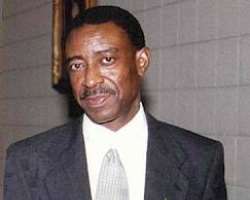 First Lady of Oyo State, Nigeria, Mrs. Florence Ajimobi will participate in the upcoming Conference of the International Association of African NGOS. The conference is scheduled for September 5-7, 2013 at the Hilton Hotels and Resort, Rockville, MD. Mrs. Ajimobi will be the keynote speaker for the Luncheon on Friday, September 6, 2013. She will speak on 'Access to basic health care in Oyo State: the role of the NGOS'. She will also participate in a workshop titled 'Empowering NGOS with technology-Information Communication Technology'.

The first lady has been involved in several public service and humanitarian initiatives. These include Access To Basic Medical Care (ABC), aimed at providing the highest quality and most effective health care service, as well as expanding the presence of health care delivery in the rural areas of the state, Educate The Rural Child(ERC), the Florence Ajimobi ICT Center, the HIV Empowerment Program (HIVE) and the Ajumose Food Bank. She also built a day care center for motherless babies in Ibadan.
Oyo state is an inland state in Southwestern Nigeria.
It is a homogenous state inhabited primarily by the Yoruba ethnic group. Yoruba is the major language, but English is the language of business. It has a population of about five (5) million people, a per capita of about $2, 600 and a GDP of about $16 billion. Its capital, Ibadan, is the largest indigenous city in Africa.
Oyo State is a state of many firsts-first teaching hospital in Nigeria, first University in Nigeria, first television station in Black Africa, First floodlit stadium in Black Africa and the first skyscraper in Black Africa (the Cocoa House).
Though it is a state known for the abundance of educational institutions, it is also an agricultural state. It produces crops like maize, cashew, cocoa trees, rice, palm trees and rice. It also has an abundance of Clay, Kaolin and Aquamarine.
For further information about registration and speakers, call Joyce Halliday at 240-338-6445 or email at [email protected]