IBB a true statesman – Mark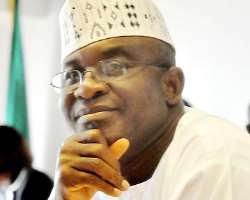 President of the Senate, Senator David Mark has rejoiced with former military President General Ibrahim Babangida on his 72nd birthday, describing the General as a true statesman.
A statement by Mark's Chief Press Secretary, Mr. Paul Mumeh, said his boss' described Babangida as "a quintessential statesman whose leadership quality remains a reference point in contemporary history of Nigeria."
According to the statement, Mark noted with pride that General Babangida's goodwill  cut across ethnic and religious boundaries. It added,  "Babangida remain a true statesman and a nationalist who believe in one indivisible, united, peaceful and progressive Nigeria."
Senator Mark, the statement continued, praised Babangida for remaining steadfast and always making his rich knowledge and wealth of experience  available to the new generation of leaders to benefit from.
Mark prayed for Babangida's "good health, wisdom and courage so that the present and future leaders continue to draw from his fountain of experience and knowledge in the task of moving the nation forward."
Sent from my BlackBerry® wireless handheld from Glo Mobile.