FG, UK hold talks over restriction on travellers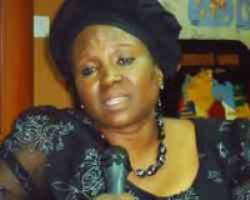 THE Federal Government said on Wednesday that it had opened talks with the Britsh Government over the controversial £3,000 visa bond.
She said the government was doing everything within its powers to ensure that Britain quashed all such restrictions against Nigeria in visa applications and approvals. Speaking to journalists on Tuesday at the Nigeria Union of Journalists (NUJ), Owerri, Imo State, the
Minister of State for Foreign Affairs, Prof. Viola Onwuliri, told journalists in Owerri, Imo State, that the Federal Government had held talks with the British ambassador on the controversial visa bonds and other forms of visa restrictions and discriminations against Nigerian citizens.
The  British government recently unfolded plans to charge a refundable deposit for visas is a way of preventing influx of immigrants to the country.
Under the scheme visitors from India, Pakistan, Bangladesh, Sri Lanka, Nigeria and Kenya will reportedly have to pay a deposit £3,000 for a visa.
Reports suggest the government will pilot the scheme in November and a Home Office official on Monday characterised the initiative as the "next step in making sure our immigration system is more selective".
The scheme has drawn criticism from the countries targeted for the pilot phase as well as politicians and businessmen in Britian.
The official suggested it was still in the process of being finalised, but could be applied to more countries if it was successful.
"The pilot will apply to visitor visas, but if the scheme is successful we'd like to be able to apply it on an intelligence-led basis on any visa route and any country."
The bonds would essentially act as a financial guarantee that visitors abide by the terms of their visa or use British public resources.
But the money involved would seem to limit all but the very wealthiest of visitors and the scheme has been deeply controversial in the countries linked to it.
Nigeria has already made a formal demand that the scheme be scrapped, while protests in India during the visit of David Cameron, the British prime minister, in June elicited a British government statement that no final decision had been made.
Olugbenga Ashiru, the Nigerian foreign affairs minister, summoned the British high commissioner in June to express the "strong displeasure" of the Nigerian government over the "discriminatory" policy.
Onwuliri also  used the forum to highlight the achievements of the Federal Government within the past years on transformation agenda.
According to her, the Federal Government is frowning at the countries that execute Nigerians who indulged on drug trafficking among others in foreign land, without the consent of the Nigerian government, maintaining that international protocols state that countries must know about such acts.