Motherhood Has Been Great-Bisi Ibidapo-Obey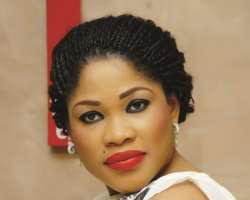 Bisi Ibidapo-Obey is no longer a small fry in the entertainment industry, especially in the Yoruba genre of Nollywood, she is a force to reckon with. When she hit limelight in a film titled 'Bisi Omo Logbagba', it was a dream come true for her. Shortly after her appearance in that flick, she became an instant household name. 22 years after, she still commands lots of respect from her fans and folks.
Of course, it's no longer news that Bisi is now a mother and that she is really enjoying every bit of it. In a recent interview, the notable
thespian herself confessed that "motherhood has been great'. Let's first hear how she felt when she became a mother, "It's so very hard to express the exact way I felt. It surely remains the happiest day of my life. I gazed into her beautiful eyes for several minutes and couldn't believe she came out of me. In fact, up till this moment, I still wonder if she actually came out of me. I can't just stop thanking God for everything He has done."
Bisi also reveals how she juggles motherhood with her acting career, "I still take jobs, I still go to locations. Motherhood has been great, I make out time to spend quality moment with my daughter, but I still have to work so I can take care of her. She's such a sweet little girl and I do wish I could stay at home with her all day, but then, that is a bit hard because I have got to provide for her needs and that of my mother and siblings, the only way to get resources to do that is work and more work."
Click the link below to go to...
Bisi Ibidapo Obe Dino Malaye's Pregnancy Scandal Latest ...Lola Alao Is A Fool!
Ten Great Things About Dating Older Women
Whenever I refuse him my salary, he says I don't love him
Peter Of P-Square Steps Out With Son, Cameron
SHOCKER: Man Assaults Wife With Hot Pressing Iron ( A MUST-READ )