Top Nigerian Celebs Who Are Rich & Famous But Not Married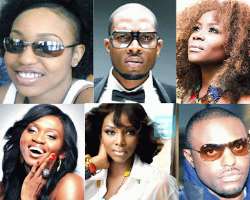 The Nigerian entertainment industry is waxing stronger everyday with notable faces making waves. But many of these personalities are yet to say 'I Do'. Is it because of the current issues of divorce bedeviling the industry, that some are finding it difficult to get married? Here are the notable faces who are yet to say 'Yes, I do' and even when they do, one might not even know since it can be done secretly.
Money is not the problem, but the problem is who to marry...
As a celebrity, you are faced with challenges of finding the right one to hook you up because of the temptation one faces everyday. But for these celebrities, they are just one of those things in the industry and don't care if one speaks ill about them or not because that's what makes them.
Though, some like Omawumi who was reported to have molested a photo journalist recently, the truth is what prompted that? Because in a recent interview, the sonorous musician stated that people are nosing too much on her personal life and she detests it. So, who and what are they in relationship with?
Why are they not married even as they are getting older? Though some have children others are yet to ponder for one or so it seems. Here are six out of the numerous celebrities that have never said "I Do" and might take longer to do so.