Love In The Heart Of Nollywood Actress, Genevieve Nnaji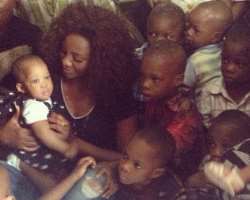 As part of her social responsibility and of course, her passion for helping people recently came to fore when star actress, Genevieve Nnaji visited a motherless home with some cash and gift items.
The mother of one, Genny as she is fondly called, shortly after she returned from the home, she displayed her pictures with the kids on her Instagram page with a few words;"Times I don't sweat the small stuff. Lets start the week with love in our hearts. Good morning" and "Soon I will need your help to relocate them to a better home. Can I count on you?"
Obviously, she was asking for a few favour from one of her followers.