Bob Manuel Udokwu Loses Mum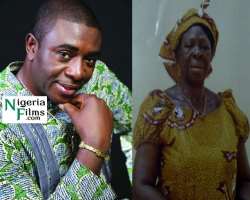 The veteran actor who kicked-off his movie making career with TV soup opera entitled, Check-Mate, Bob Manuel Udokwu has lost his mother. The Gulder Ultimate Search anchor's mother was 78 years old before her death. She died on July 20, 2013 while sleeping as she was not reported to be ill before her peaceful death.
This ugly incident occurred few days to top actress Chioma Chukwuka's late mother's burial in Anambra state.