Miss Borough London Slated For 10th August 2013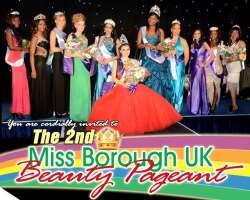 Miss Borough Beauty Pageant, was launched in 2012 to help teenagers enter the world of modelling, dancing, singing and beauty pageant to name a few,Missborough.co.uk & Mayer Models is the project for Malisha
The Official Miss Miss Borough UK Web Site for the search for Miss London Borough UK
A global Quality of Life improvement promotion Crown Pageant - powered by Inner Beauty - bringing London Borough youths closer
What is it's all about?
Miss Borough Ltd is actively supporting 16-30 year old that have shown a definite interest in training and working in the hair,fashion and beauty industry and who have made the extra effort to attend our sessions.
Why are we doing it?
The 2012 riots and preceding disturbances: Our aim is to encourage as many youths as possible off the street and into something constructive and fun,targeted at under-represented 16-30 yr old youth's we aim to get them back to learning new skills, building their confidence, giving advice , training and entrance to possible job prospects, but most importantly to give these youngsters access to opportunity and a definitive goal.#
Where are these youths based?
The 33 London Borough's have a wide variety of talent from various cultures Miss Borough is based in London and so we strive to hone this talent and give them some direction.
We are a new project and your contribution will go a long way into providing these youths with a chance to becoming proud role models of their Borough's and possibly give them a beacon of light in their career aspirations and assist us in our plans to make this event an annual affair that will help many.
When was the first show?
Your support was absolutely appreciated, for the first which was held at London's Royal National Hotel, Russell Square on Saturday, 25th August 2012.
How can you get involved?
You can help by keeping Miss Borough growing. Your contribution will make it possible to continue the Miss Borough project and help an array of youths who get trapped in that never ending circle of no hope. Your generous contribution can help break them out of this circle and we'll help to give them focus.
The projects aim is working in the Beauty Pageant, Cat Walk, Fashion, Cosmetics, Hair & Beauty,
Make Up industries including other interrelated businesses and we want Miss Borough to be a starting point to access these industries for training and work.Come and Support the 2nd Miss London Borough on the 10th of AUG 2013 at V360 EVENT CENTER 4th FLOOR LANCASTER HOUSE 70 NEWINGTON CAUSEWAY 2 MINS WORK FROM ELEPHANT & CASTLE STATION ,LONDON SE1 6DF. UK, Sponsorship & Marketing Director at Miss Borough Ltd www.missborough.co.uk