Finally, Senate Moves To Pass 2013 Budget Amendment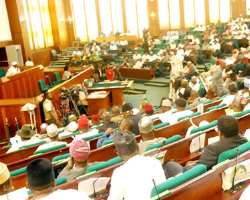 ...Bill Scales Second Reading
ABUJA, July 23, (THEWILL) – The Senate on Tuesday reversed itself and pushed the amended 2013 budget bill beyond the all important second reading.
The development is in contrary to the earlier threat to delay the bill till September.
Instead, the Senators unanimously passed it for second reading.
It could be recalled that the contentious budget had pitted the National Assembly with the executive in an ugly confrontation.
Basically, President Goodluck Jonathan is urging the National Assembly to immediately restore about N32 billion earlier expunged from different categories of the budget.
The Senate President, David Mark, referred the amendments to the Senate Appropriation committee for further legislative work with a directive to report back to plenary on Wednesday for the crucial clause by clause consideration and possible final passage.
Mark insisted that the import of the budget did not boil down to allocations alone but actual implementation, a recurrent area of friction between lawmakers and the executive.
Senate spokesman, Enyinnaya Abaribe, told journalists during a press conference after plenary that the Senate; " have since revisited our position and the Senate has passed the budget amendment." He assured Nigerians not to worry, saying " we are working in the interest of Nigerians. "
According to Abaribe, "Once we do the clause by clause consideration, then we will see what amendments are made. Within 24 hours, we should be able to get the budget from the appropriations committee so that we can take action on it."
Jonathan's proposed budget amendments indicate changes across select expenditure categories.
In a letter dated June 26, the president urged the lawmakers to restore allocations to some capital projects earlier sliced by the National Assembly so as to promote national development.
Under the Ministry of Works, the president listed allocations for the construction of the Abuja-Lokoja Road, which was reduced by N4 billion; Kano-Maiduguri Road, reduced by N3.5 billion; dualisation of Ibadan-Ilorin Section 2, reduced by N5.5 billion; rehabilitation of Jebba Bridge reduced by N1 billion; Special Intervention Fund for Emergency roads and bridges across the country, reduced by N6.28 billion and; dualisation of Obajana Junction to Benin Road, reduced by N4 billion.
Other categories include those in the Ministry of Health: MDG HIV/AIDS ARV drugs allocation, reduced by N1 billion; Routine Immunisation Vaccines, reduced by N1.75 billion; malaria programme- procurement and distribution of insecticides, reduced by N800 million; payment of pledge for onchocerciasis re-certification, cut by N120 million and; National Trauma Centre, Abuja, reduced by N0.1 billion.
Under allocations for the Ministry of Power, a total of N16.3 billion was cut from power projects, including the 215MW Kaduna Dual Fired Power Plant, which was reduced by N2.25 billion; second Kaduna-Kano 33KV DC Lines, reduced by N1.5 billion; Gombe-Yola-Jalingo 330KV SC Line, reduced by N0.6 billion; Maiduguri 330/132KV Sub-station, reduced by N0.3billion; Kaduna-Jos 330KV DC Line, reduced by N0.5 billion and; Omotosho-Epe-Ajah 330KV DC line reduced by N0.8 billion.
For the allocations to the Ministry of Transport: construction of Abuja-Kaduna Rail was reduced by N1.4 billion; Jebba-Kano rail line rehabilitation, reduced by N500 million; procurement and rehabilitation of wagons/locomotives, reduced by N1 billion; insurance of locomotives, reduced by N200 million.
For the Ministry of Education, allocations to various projects were reduced to N5.64 billion, including the National Library Project, which was cut by N2 billion.
Allocation to the Community Services, Women and Youths Employment Programme under the Subsidy Reinvestment and Empowerment Programme, SURE-P, was reduced from N27 billion N9 billion.
Jonathan had reminded the Senate that the personnel cost was trimmed down across all ministries, departments and agencies, adding that if these were not restored, it would make it difficult to meet government's obligations to its workers and maintain "industrial harmony".
The Minister of Finance, Ngozi Okonjo-Iweala, had warned that the Federal Government may run into difficulty in payment of salaries to workers and completion of key projects contained in the approved budget, if the lawmakers do not immediately restore about N32 billion cut from different categories of the budget.