House Passes N4.987trn Budget Amendment For Second Reading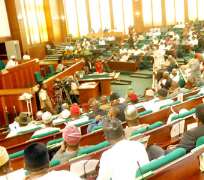 …Concludes consideration of Constitution Amendment
ABUJA, July 18, (THEWILL) – The House of Representatives, Thursday made a U-turn from its insistence that only a supplementary budget could be entertained from the Executive as it passed for second reading the contentious amendment of the 2013 Appropriation Act as requested by President Goodluck
Jonathan.
This was after a hectic session that took four extra hours from the normal adjournment time of 2pm. The sitting, presided by Speaker Aminu Waziri Tambuwal, which started at about 12 noon closed at 6.18pm.
The lower chamber also concluded consideration of the report on the review of the 1999 Constitution and fixed Tuesday next week to vote on the report. It however stood down consideration of the proposal to put security agencies and office of the National Security Adviser (NSA) on first line charge.
The N4,987,382,196,690 trillion Amendment Bill would however be subjected to thorough scrutiny by House Committees on Appropriation and Finance.
House Leader, Hon. Mulikat Akande-Adeola, who presented the bill said the president was only seeking to restore funds that were removed by the House in order to make the budget implementable.
In the amendment bill, the total sum, N2.418 trillion is for recurrent (non-debt) expenditure, while N1,588,578,805,197 is for contribution to development fund for Capital expenditure.
Also N388,063,000,000 was proposed for statutory transfers while N591 billion is for debt services.
Akande-Adeola said the figure in the new bill was not different from the Appropriation Act, 2013 only that the executive was desirous of restoration of funds removed from some critical sectors.
In his submission, chairman, Committee on Appropriation, John Enoh (PDP, Cross River),opined that the bill should be given the chance to get to the committee stage where all grey areas would be painstakingly examined.
He noted that without prejudice to the volumes of the Amendment bill, the lawmakers would be able to examine the few areas highlighted in the new bill.
In his ruling, the Speaker, Tambuwal expressed gratitude to his colleagues for heeding his advice at an executive-session to allow the bill pass for the committees to be able to work on it after which the report would be considered by the whole House.
Meanwhile in considering the report of the Constitution Review, the House stood down consideration of some sections of the proposed amendment to pave way for a public hearing to iron out grey areas.
Some of the sections whose consideration was deferred include 45, 129, 143, 241, 285, 291 and 308.
Section 129 deals with the power to impound funds appropriated while 308 is concerned with restrictions on legal proceedings.