El-Phlex Releases "JAMALO" Video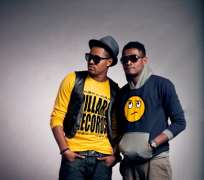 The fast rising duo singer, Adeniyi and Oluwaseun Ariyo otherwise known as El-Phlex has released video for one of their most anticipating single titled 'JAMALO' featuring one of the most respected producer cum artiste Sheyman and EME act, Skales, the video was directed by Patrick Elis.
The song 'Jamalo' strives to make faith and positive thinking seductive as the lyrics are refreshingly honest, quizzical and brings to the audience that urban male perspective that has never been aired.
This is an Future excellent hit record that is not only poised to take over the clubs and dance floors, but is also for massive radio and Television success in Nigeria, Africa and the rest of the Globe.
El-Phlex has been buzzing lately with the continuous effort putting in their work and proofs with their recent released singles 'Home & Away' featuring Reminisce and Gbetiwa Remix which featured Yung6ix, Seriki, Cynthia Morgan, Jhybo, Iceberg-Slim and T-izze.
El-phlex as won different award like Global News Award for the Most Promising Artist of the year 2011, Best Upcoming Artistes 2010 in Ibadan by "ASCOM" Association Of Student Communication and also Best Performing Artistes UNIBEN IN 2006.
Sent from my BlackBerry® wireless handheld from Glo Mobile.