Bank Of America Profit Jumps As Equities Trading Revenue Improves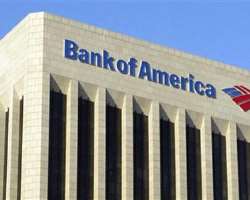 Bank of America Corp (BAC.N) reported a stronger-than-expected 70 percent rise in second-quarter profit, helped by higher revenue from equities sales and trading and a drop in expenses.
Net income applicable to common shareholders rose to $3.57 billion, or 32 cents per share, from $2.10 billion, or 19 cents per share, a year earlier. Revenue, net of interest expense, rose 3.5 percent to $22.73 billion.
Analysts on average had expected the second-biggest U.S. bank by assets to earn 25 cents per share, according to Thomson Reuters I/B/E/S.
Bank of America shares were up 1 percent at $14.05 before the bell.
The bank's operating expenses fell to $16.02 billion from $17.05 billion in the same quarter last year.
Cost-cutting has been a priority for Chief Executive Brian Moynihan, who took charge in 2010.
Bank of America unveiled an initiative in 2011 that aims to save $8 billion a year and has set a goal of achieving $1.5 billion in savings per quarter by the fourth quarter of 2013.
Sales and trading revenue in the bank's global markets division rose 11.2 percent to $4.15 billion, excluding an accounting adjustment.
Revenue in the global banking division rose 6 percent to $4.14 billion, driven by a 24 percent rise in revenue from investment banking fees.
Revenue in the consumer and business banking division was little changed at $7.43 billion, while revenue from the global wealth and investment management business increased 10 percent to $4.50 billion on higher asset management fees.
Bank of America's shares have risen nearly 20 percent this year through Wednesday, well below the 25 percent increase in the KBW index of bank stocks.
The bank's net interest margin, a measure of the profitability of its loans, rose to 2.44 percent from 2.21 percent a year earlier.
Rising interest rates should alleviate pressure banks have faced on margins, but that trend will take time to bear fruit.
REUTERS