Finally, The Jonathan's Meet Hajiya Turai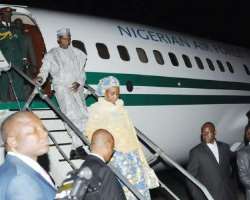 PHOTO: PRESIDENT YAR'ADUA AND TURAI RETURNING TO NIGERIA AFTER ONE OF THEIR MEDICAL TRIPS ABROAD. PHOTO: NAN
San Francisco Feb 26, (THEWILL) – Reports available to THEWILL indicate that Nigerian Acting President Dr. Goodluck Jonathan accompanied by his wife, Patience paid a get well visit to the Yar'Adua's late Thursday night at his Presidential mansion at the Villa.
Predictably, they met with only Hajiya Turai Yar'Adua.
No official statement was issued after the meeting but a source familiar with the development said the Jonathan's were not granted access to President Yar'Adua.
Umaru Yar'Adua has not been seen in public since November 23, 2009 when he was flown abroad for medical treatment.
Meanwhile, Yar'Adua's spokesman Olusegun Adeniyi has denied media reports suggesting that he said multiple medical reports of Yar'Adua were sent to Jonathan. Adeniyi noted that only one report was sent to the Acting President.
"Further to my interview with State House correspondents yesterday (Thursday), I wish to clarify that only one medical report on President Umaru Yar'Adua was sent to Acting President Goodluck Jonathan by the chief physician to the President, Dr. Salisu Banye, through the Nigerian ambassador to Saudi Arabia. This was on Friday, February 19, 2010. The Acting President has not received any other report before or after that date," he clarified.