Jonathan Consolidates Authority, Summons Meeting Of Presidency Staff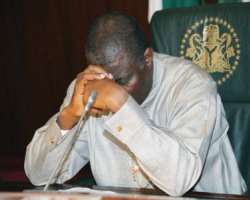 PHOTO: ACTING PRESIDENT GOODLUCK JONATHAN.
San Francisco Feb 26, (THEWILL) – In a maneuver to assert his authority in the Presidency, Nigerian Acting President summoned a meeting of all principal Presidency staff on Friday at the villa.
Sources privy to discussions at the meeting told THEWILL that the Acting President informed the gathering of how he intended to run the Presidency warning that he would not tolerate disloyalty form personnel.
"The Acting President was very clear on how he intended the Presidency to function. He gave us a blue print on how the President Yar'Adua's staff and his staff would exchange communication and function as one unit," the source said.
Jonathan was said to have emphasized that he would not hesitate to sack any official perceived to create friction under his Presidency.
The Presidency did not issue a statement after the meeting.
There is however an unconfirmed report that the very ill Yar'Adua is still holed up in the ambulance, the special mobile ICU that allegedly conveyed him from the airport to the Villa, because the intensive care facility where he was intended to be kept has not been completed.
Access to Yar'Adua has been tightly controlled by his wife, Hajiya Turai and has stalled moves made by Nigerian government officials and Party officials to see him thus confirming earlier reports in THEWILL that he is seriously ill and presumably brain dead.