Again, Britain, USA Restate Support For Acting President Jonathan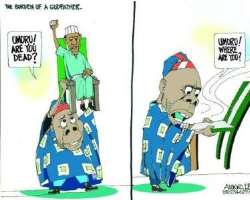 San Francisco Feb 26, (THEWILL) – The United Kingdom on Thursday reiterated its support for Nigerian Acting President Dr. Goodluck Jonathan in the wake of the alleged return of ailing President Musa Yar'Adua.
Yar'Adua's hurried and secretive arrival on Wednesday morning had raised fears of an imminent power struggle between him and the Acting President. A statement from Yar'Adua's spokesman Segun Adeniyi on Wednesday had referred to Jonathan as Vice President in clear disregard of a National Assembly resolution, which elevated Jonathan to Acting President.
Britain through its ambassador to Nigeria, Mr. Bob Dewar said it was satisfied with the Thursday statement from Yar'Adua recognizing Jonathan as Acting President and Commander-In-Chief.
"We have read in the media reports of the return of President Yar'Adua to Abuja. We continue to extend best wishes to him for a full recovery from his illness.
"The British government continues to encourage the government and institutions of Nigeria to act in a way that is consistent with the constitution and the principles of democracy, good governance and the peaceful rule of law.
"It is important to avoid uncertainty at this time. It is also important at this time to avoid any political or constitutional confusion that could put at risk the integrity and transparency needed in the conduct of public affairs.
"We therefore welcome the clarification on leadership during President Yar'Adua's recuperation from illness, provided by recent official statements, namely that the Acting President will continue to oversee the affairs of State," Dewar said in his statement.
In the same vein, The United States government through its Department of State spokesman P.J Crowley warned pro-Yar'Adua politicians not to use his (Yar'Adua) return to destabilize the country, adding that Acting President Goodluck Jonathan has the backing of the White House.
"We are concerned that his return is not an effort by his senior advisers to upset Nigeria's stability in an effort to forward their own personal interests.
"We have tremendous concern about stability and our message to all of the players in Nigeria is make sure this moves forward in a stable, constitutional and democratic way," Crowley told journalists.
While answering questions on Thursday evening in a conference call, another Department of State official in Washington who would not like to be named would not clarify reports that the United States was considering punitive measures on politicians who it sees as trying to destabilize Nigeria's democracy. The official however said, "The United States is concerned about the health of President Yar'Adua and hopes that his senior advisers will put his health ahead of any personal ambitions.
"We have reiterated that Nigeria is a very important partner because of its role regionally and internationally, we are interested in the stability of Nigeria and will do what we have to do to promote democracy and stability in Nigeria," the official added.
Jonathan has managed to stabilize the country since he became Acting President on February 9th, after the National Assembly passed a resolution which Senate President David Mark tagged 'a doctrine of necessity.'
Attempts by Jonathan to see the gravely ill Yar'Adua has so far been rebuffed by his assertive wife, Turai who has been playing a leading role in the pro-Yar'Adua's camp push to wrestle the Presidency from Jonathan. A planned meeting between Jonathan and Turai was called off at the last minute on thursday. As at the time of this report on Friday evening, there was a report that Acting President and wife, Patience may pay a visit to Turai to ascertain the true state of the President's health.