Boko Haram Takes Over Bama, Gwoza Councils in Borno State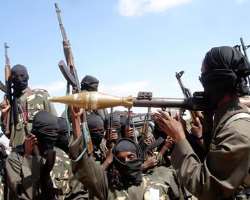 Following Military Operation in Sambisa Game Reserve thick forest, some suspected  Boko Haram Militant  have taken over Gwoza and Bama Local government councils in north eastern, Borno State, Pointblanknews.com gathered.
Some  fleeing residents  who escaped  through the bush parts of  Dikwa arrived Maiduguri  Muna Motor park  in their hundreds looking very famished with their kit and kins.
"we paid N7000 to be transported to Maiduguri instead of the usual N300 fare since the Maiduguri- Bama road was closed by the Military".Says Fannami Abba who spoke to reporters in Maiduguri motor park.
"I escaped with six members of my  family  Maiduguri. I paid 50, 000 naira for the taxi cab which I hired to  convey my family here in Maiduguri because Bama has been taken over by the Boko Haram and they are making life unbearable to the law abiding citizens".
"You can see for yourself that all those who can afford to pay their way out  are here at the motor park while many of others have resorted to trekking through the bush", he said.
Pointblanknews.com interviewed another set of fleeing  residents who said insurgents have also taken over Gwoza  town while those people living behind the Gwoza hills have migrated to the Cameroon as  others are Currently taken refuge in the caves around Gwoza hills .
A retired civil servant, David Achara who was in Gwoza to bury his brother inlaw who  was killed by the Boko Haram a week ago said: " when we took the body of our late inlaw for burial I was advised to leave town immediately after the burial if I valued my life as the insurgents wont spare me if they catch me in town".
"I think the military should deploy soldiers to Gwoza immediately if the people are to be spared from the Boko Haram humiliation and unnecessary massacre" Achara . said.
Security have also been beefed up in Maiduguri following the influx of fleeing Bama and Gwoza residents. The Military have also reinforced and headed to the two affected local government areas.