Actress Emelia Brobbey on Thursday June 13 delivered a baby boy in the UK.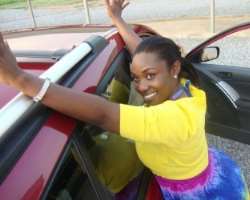 Emelia who is expected to be in Ghana first week in August said she is happy to have her second child safely.

Emelia's pregnancy was not without controversies as it was reported that she was accused of infidelity.
Confirming her pregnancy, Emelia, however, told the Graphic Showbiz in its March 25, 2013 edition that she did not cheat on her husband and that the pregnancy belonged to her husband she got married to not quite long ago.
According to her, she divorced her former husband a little over one year ago after she found out that things were not working well for them.
She said the divorce was further facilitated when she found out that her ex-husband had had three children without her knowledge.
Known for movies Wo Nyamesom Mpo Ni, Hidden Passions, Akua Agege, Afunumuba, Sika Ye, Abrantie, Obiyaa and Ama Ghana.
Emelia thanked her fans for supporting her all throughout the challenging times.