Africa Rates Tricia Eseigbe's Bold Faces Amongst Top 10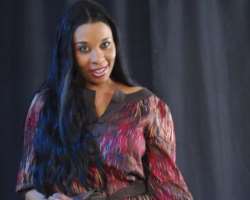 Dstv the pioneer multi- channel cable Television service provider, under which Africa magic on Africa Entertainment exists, has adjudged Bold Faces one of the programmes on the channel as one of the most viewed, entertaining and highly relevant magazine presentations anchored by seasoned presenter cum versatile actress, Tricia Eseigbe-Kerry.
Bold Faces berthed in 2004 on terrestrial air waves through STV, has carried out indepth ,well researched and educative interviews with top personalities, entertainment impresarios, business tycoons and oil magnates from all walks of life, cutting across all fields of human endeavor.
With the success achieved through this medium, Tricia Eseigbe married to the international businessman and movie producer, Kingsley Kerry turned up the heat in the magazine programming sector by going satellite on Africa Magic channels meeting the yearnings and expectations of her vast teeming viewers on the continent within a short spate of time.
This recognition further buttress the fact that Bold Faces is embolden and synonymous with the flare and dedication to professionalism and hard work. This is hoping other magazine programmes will take a cue from the management and crew of the award winning programme, Bold Faces.
However, Treesh, as the presenter is fondly called by admirers, is yet to receive this news as we gathered that she was in London where she has gone to interview some Nigerians in the diasporas.