Nigeria Receives FAO Award For Reducing Hunger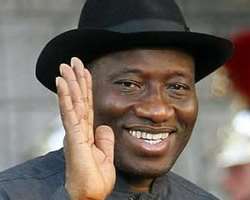 The federal government has received an award for its achievement in reducing the number of people suffering from hunger and for making progress in guaranteeing food security for Nigerians.
The award certificate signed by the Director General of the Food and Agriculture Organisation (FAO), Jose Da Silva, was presented to President Goodluck Jonathan by the Minister of Agriculture, Akunwumi Adesina, just before the Federal Executive Council meeting on Wednesday.
President Jonathan described the award as the beginning of better days ahead for Nigerians while the Minister of Agriculture said that the award was a confirmation that the international community recognised that Nigerians were being well fed under the Jonathan administration.
The FAO believes that the number of Nigerians suffering from hunger and malnutrition has reduced drastically, in line with the millennium development goals target of achieving a hunger free society by the year 2015.
Mr. Adesina said this was possible because of the launch of the agricultural transformation agenda of the administration.