Resign from politics, Vatsa's son tells Buhari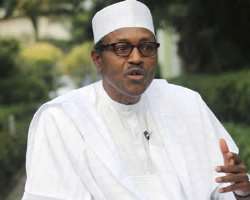 A group, the Concerned Arewa Youths Forum, led by Jibrin Mamman Vatsa, has called on former head of state and presidential candidate of the Congress for Progressive Change (CPC) , General Muhammadu Buhari (retd) to resign from politics and allow the Nigerian polity have a peaceful reign.
A statement from the group, signed by the son of late General Mamman Vasta, Jibrin Maman Vatsa, issued in Kaduna, on Tuesday, said if Buhari was calling on discerning Nigerians to judge him, they were pleased to inform him that discerning Nigerians had thrice judged him by rejecting him at the polls.
"Therefore, Buhari should guage the mood of Nigerians by not contesting the 2015 presidential election and also not to delude himself to believing that what happened to those in the western nations, those who contested elections several times before winning would be his fate. That would be stretching his luck too far and testing Allah's patience," they said.
The group expressed dismay over the statement made by the former head of state, where he addressed both President Goodluck Jonathan and the Christian Association of Nigeria (CAN) President, Pastor Ayo Oritsejafor, as being unfortunate.
"Indeed, we would have expected Christians to rise up against Pastor Oritsejafor if he had not reacted the way he did, being the leader of the religion in Nigeria, whose members are being killed.
"We disagree with General Muhammadu Buhari that Oritsejafor's statement "is lacking in facts" as presented by him..