Senator Ahmed Bola Tinubu's London Fairy Tales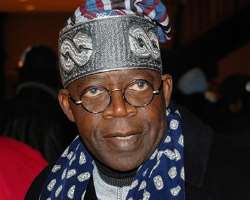 On Monday,10th of June,2013,on a day when his new political party called APC battled unsuccessfully to produce a new set of leadership, the National leader of the Action Congress of Nigeria (ACN) Senator Bola Ahmed Tinubu was at an event in London speaking on a topic he called LEADERSHIP,NATIONAL DEVELOPMENT AND THE PEOPLE. We have noted several inconsistencies, political razzmatazz and utter falsehoods contained in the address.
We begin by responding to his assertions, which were not only wide off the mark but betray the hypocrisy for which the national leader of ACN and his party have become very well known. His claim that, 'everyone claims to be democratic but not everyone is faithful to his or her word', is a clear case of self-indictment as will be evident in due course.
As any keen and discerning observer of Nigeria's democracy will attest, Senator Tinubu and his ACN are completely lacking in democratic temper. The ACN as a party is not only undemocratic but blatantly autocratic and makes no pretenses about it. We recall that only recently, its national chairman, Chief Bisi Akande, haughtily asserted that whosoever is not pleased with the national leadership of the party's way of running the ACN and picking its candidates was free to leave the party.
It is clear that ACN leadership's  understanding of democracy is tainted and skewed by his undemocratic mindset, which has seen him exert authoritarian control over the party. With such disposition, it is easy to understand his warped and defective reading of the democratic situation in Nigeria. To assert as he did in that paper that Nigeria under the leadership of President Goodluck Jonathan is a dysfunctional democracy is not only the height of ignorance but equally of unbridled mischief.
Tinubu must be talking of an imaginary Nigeria not the Nigeria we all know and live in. His submission on our democracy is nothing but wild conjecture, completely unrelated to reality. For the records, the Nigerian democracy is robust, vibrant and unattenuated. Unlike the ACN chieftain would have us believe, Nigerian democracy does not stand in any dark and uncertain corridor neither is it authoritarian. Rather, it looms large in the minds of Nigerians for its respect of fundamental human rights and the rule of law. For followers, local and international of Nigeria's democratic journey since 1999, there is unanimity of opinion that no administration has equaled the Jonathan administration in the observance of and respect for the hallowed principles of maintenance of rule of law, free press, sanctity of the electoral process, separation of powers and respect for public opinion. President Goodluck Jonathan's opening up of the democratic space through institutional reforms clearly marks him out as a committed democrat.
It is trite to observe that President Jonathan is perhaps the most unjustifiably maligned leader in the history of Nigeria with critics using their overriding influence on Print and Electronic Media freely and in many cases unfairly to take potshots at him. It is common knowledge that no administration has been abused, lied against and harangued like the present administration under Jonathan. Yet, there have not been any reprisals or harassment from government agencies. Instead, the administration has encouraged free speech and open government. It is on record that despite the avalanche of criticisms and attacks in the media, journalists and their organizations have not been hounded or closed down as we witnessed in recent past.
Rather than muzzle free speech, this administration has always explored the legal option in seeking redress as was the case recently with the recent Leadership Newspaper issue. Furthermore, the signing into law of the Freedom of Information Act after previous administrations had stalled it was a pointer to the inherent democratic character of the Present administration.
Unlike the governments being run by ACN party at the state levels, the administration of President Jonathan however, has always bowed to the wishes of the Nigerian public on a number of occasions when they have disagreed with certain policies of his government.  The reversal of his decision on the removal of subsidy on petroleum products, the offer of amnesty to terrorists at the insistence of Nigerians in the northern part of the country and the decision to shelve the introduction of the N5000 note following public opposition, are three examples that will suffice in this regard.
Like the other assertions contained in his paper. Senator Ahmed Tinubu's take on the electoral process rings hollow. It is a fact attested to by all, including members of the international community, that the electoral system in Nigeria has been sanitized following reforms implemented by the present administration under President Jonathan. Opposition parties, including Tinubu's ACN, won elections conducted by a Federal INEC under these reforms. The only cases which could probably justify his claim that 'we have too many false winners who were true losers' are found in the elections conducted into local governments by the Action Congress of Nigeria state Governments. For example, Nigerians will recall that under Tinubu's watch, massive electoral fraud was perpetrated during the Local Government elections in Lagos State where winners in 24 hours suddenly became losers. Tinubu himself was widely reported in the papers as having voted without a voter's card.
The ACN national leader talked glibly about perversion of national development and alleged inability of the Jonathan administration to solve the problems of hunger and inequality in Nigeria. Clearly, Tinubu must be either living in a different Nigeria or he is being mischievous. It is on record and facts bear this out, that no administration in Nigeria's 53 years of independence has done more to address these problems more than the Jonathan administration. We will address this shortly but first let us make a few observations concerning few states controlled by the ACN.
It is an irony that despite huge financial resources available to Lagos states government in form of revenue from the Federation Account and massive Internally Generated Revenue in the 8 years that Senator Tinubu governed Lagos, how many of these high sounding programmes which the ACN leader pontificated on did he implement?  What social security system did he put in place for workers and peasants in Lagos state? Why have the Action Congress of Nigeria governments in Oyo, Osun, Lagos and Ekiti removed subsidy on health care and tertiary education making it impossible for the poor in those states to send their wards to State Universities, Polytechnics and Colleges of Education or have access to affordable health care in the last few years? Will Senator Tinubu deny that school fees in LASU,EKSU,OOU and the teaching hospitals owned by Osun,and Oyo state governments have increased by between 200 and 300% in the last two years? Is this the model they hope to replicate at the National level?
By contrast the Jonathan administration has consistently intervened and placed emphasis on the key areas of increased access to education, poverty eradication, access to healthcare (with giant strides recorded in primary healthcare) and empowerment particularly of youths and women.
For instance between 2011 and 2012 over 433,650 lives were saved through the 'Saving One Million Lives' (SOML) initiative. In addition, thousands of frontline health workers have been recruited, trained and deployed to most remote communities in Nigeria to increase antenatal attendant coverage. Furthermore, in the last one year 1,500 primary healthcare facilities have been refurbished and supplied with the essential commodities to increase delivery skilled-birth attendant, and in 2012 alone, 1.044 million antenatal care visits were made in the 1,000 MSS facilities across the 36 states and FCT, which is a 26 percent increase from 828,922 reported in 2011 to increase postnatal care coverage.
These are verifiable facts and not imaginary figures, which Tinubu and his party cannot controvert. Aside achievements in the health sector, the Jonathan administration has intervened critically in the area of job creation and youth empowerment.
A number of initiatives have been embarked upon to reverse the high unemployment trend.
Reforms in the Agriculture sector alone has created almost two million jobs in the last two years while Nigeria is fast moving on a lane of self -sufficiency in production of major food staples.
Similarly, new government investment in Water Resources as well as the return of train services has not only created new jobs but has restored a the economic livelihood of several communities on the rail routes across the country.
These include The Public Works and Women/Youths Employment (PW/WYE) project, which was launched by the President. The project targets 370,000 jobs across the country in 2011.
Similarly, the YouWiN (Youth Enterprise with Innovation in Nigeria) project was launched in October 2011, to provide jobs for 80,000 to 110,000 unemployed Nigerian youths. Jobs would be created through businesses created by with brilliant business ideas, who are identified through You Win and directly supported to realize their entrepreneurial ideas over the next three years. After intensive business development training, the first set of 1,200 potential beneficiaries were selected in March 2012 for grants to start their proposed businesses.
The Nigerian opposition leaders address their minds to the quantum of new investments coming into the country as a result of President Jonathan's economic reforms. Are they probably not aware of the Indorama 1.2 billion dollar fertilizer plant   in Onne,the 250 million dollar Procter and Gamble Plant in Ogun State,the 8 billion dollars investments in Agriculture and others?
As with much of what Tinubu said in his paper, the ACN chieftain's opinion that, 'no large nation has ever attained sustained growth without government running deficit budget to build required infrastructure…', is verbose and cannot be supported by any critical or statistical analysis.
Senator Tinubu's recommendation of deficit budgeting as an instrument for National development in developing countries is just another economic view but certainly not sacrosanct. It is sound judgment for developing nations also to employ a combination of deficit and Private Sector Participation (PSP) in various degrees and combinations to finance its developmental processes and projects. It is advisable that developing nations employ PSP in funding infrastructures and deploy budget deficits to finance both the productive investment and commercially disposable projects that can then be offloaded at maturity to the public in order to re-invest the resources into other massive financial investment.
This is what exactly this administration has embarked upon in order to manage effectively the financial resources of this nation. The government is spearheading the disposal of the 5000 MW NIPP projects, which the private sector is now ready to purchase in addition to the PPP scheme, which this administration is employing to enhance our infrastructural facilities.
It should interest the public that Mr Tinubu's political acolyte, Mallam Nassir El-Rufai, accused the former Lagos State Governor of nearly running the PHCN bankrupt with his Enron power deal. This what how El Rufai put it in his book, THE ACCIDENTAL PUBLIC SERVANT, :
'I saw starkly how government officials were willing to pervert the interest of the country to impress foreigners or obtain preferences for those they thought were their kinsmen…It was gratifying (and I felt that it was divine judgment for the sleepless nights and media attacks we in the BPE were put through by their executives and Nigerian collaborators for no reason other than their narrow commercial interests) that I had to witness the collapse of that evil corporation'.
On Tinubu's contention that under the watch of President Jonathan insecurity has grown and that Boko Haram has turned large parts of northern Nigeria into no man's land with lives and property under severe threat and economic activities grinding to a halt, we advise the ACN leader to wake up to the reality of the moment. It is clear to any clear-sighted and right thinking Nigerian that this administration is firmly in control of the security situation. The Boko Haram terrorists have been routed and expelled from the camps and enclaves by the Nigerian military and life and commercial activities continue uninterrupted in the states currently under emergency rule. Infact, a major Nigerian airline, IRS, just announced a resumption of its flight to Maiduguri which had been suspended while the insecurity persisted.
Nigerians know for a fact that were it left to Tinubu and his party, the terrorists would be having free rein in the northeast of Nigeria. It is public knowledge that whilst peace loving Nigerians fully supported the declaration of emergency rule by President Jonathan in Borno, Yobe and Adamawa States, the ACN and the Congress for Progressive Change(CPC) one of its merging partners, opposed the move going as far as calling on the National Assembly to reject the declaration.
This is why we regrettably disagree with Senator Tinubu's labeling of himself as a patriot. As everyone well knows, patriots are concerned with the image, the well-being and survival of their country and will do everything in their power to protect same even if they have political differences with their home governments.
They do not condone terrorism neither do they travel around the world denigrating their country. It is noteworthy that even though President George Bush jnr is not in sync with some policies of present American President, Barrack Obama, he does not go around the world disparaging the current American President. Also several notable Black American leaders including Ambassador Jetta, Andrew Young and Rev Jesse Jackson have visited Nigeria and other African countries quite often , yet none of them will speak evil of their home governments in spite of the various challenges facing the African American community in the United states. This is the hallmark of true patriotism.
It is clear from Tinubu's paper that the ACN chieftain and his party lack a fundamental understanding of both democratic norms and sound economic judgment. His Third Path blueprint for economic transformation is nothing but a hollow ideological concept.  As the ACN national leader has failed to realize, the world has moved away from ideologies in favour of pragmatic and result oriented policies, which impact meaningfully on the lives of the people. Nations like Russia and China, which spearheaded Communism, one the great ideological movements of the 20th century, have since embraced market reforms,and also have states in the western hemisphere dumped pure capitalism for more people oriented policies with less dogmas and economic clichés.We are sorry to say that the so called 'THIRD PATH' is a clueless path to socio-economic abyss as it remains essentially a theoretical proposition with no evidence of success either in history or contemporary climes.
In conclusion, we wish to advise the leader of the Action Congress of Nigeria to adopt a higher standard of integrity as a former Governor and political leader. The advertised speech which Mr Tinubu and his unabashed promoters describe as an 'address to the House of Commons' was in reality an event put together by a private concern owned by a Nigerian who only rented a room within the premises of the British parliament.Good leadership must be distant and distinct from lies and deliberate falsehood intended to fool the public.
For Leadership, integrity counts!
Thank You
Dr Doyin Okupe
Senior Special Assistant to the President on Public Affairs
13th June,2013
Disclaimer:

"The views/contents expressed in this article are the sole responsibility of the author(s) and do not necessarily reflect those of The Nigerian Voice. The Nigerian Voice will not be responsible or liable for any inaccurate or incorrect statements contained in this article."