SHEILA OKONJI BRINGS HIGH SCHOOL MUSICAL TO NIGERIA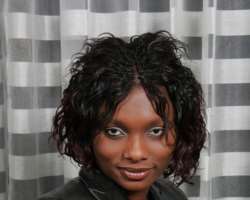 For lovers of Disney's record-breaking 2006 movie High School Musical, here's some piece of good news!The American televised musical movie is coming to Nigeria for the first time ever, and already the licensees at Kidztrust (headed by international Entertainment tycoon Sheila Okonji Ashinze) are setting plans in motion to make this a reality.
'We are doing all we can to make this work" Ashinze told journalists last week. She continues, "We are in the process of activation, right now, we have a team going round universities to enlighten the students about high school musical and you need to see the excitement on their faces'.
Sheila has over time led KiDZ TRUST into
pioneering realms by obtaining the license for popular children characters such as the loveable dinosaur "Barney", "Bob the Builder" and "Scooby Do". She is also the founder of Zons tours and PR with a long list of first class clients (Akon, JayZ, Kanye West, Nas, Sean Paul, Usher, 50 cent, Joe and Busta Rhymes)
Shedding more light on High School Musical, Sheila Okonji Ashinze says 'We got the rights by Disney to bring High School Musical to Nigeria and other parts of West Africa, and what we intend to do is after series of auditions and call backs and final selections in Lagos and Abuja, there will a be a series of rehearsals after which the show will be premiered on May 27, 2010".
The high octane Nigerian debut which is scheduled to hold between March and May 2010 has already been penciled by industry pundits as one of the events to watch out for this year as it happens to be one of the most exceptional ideas of 2010.
Watch the twists and turns of the lovable schoolmates – Troy, super-popular captain of the basketball team, and Gabriella, super-smart transfer student and genius in science class – as they surf the tricky tides of peer pressure and canteen cliques to follow their dreams and score the leads in the big school show, and a place in each other hearts
Sponsored by First Bank, at the end of the search the lucky candidates that are crowned Nigeria's Troy and Gabriella would be taken to the United Kingdom, where they would embark on a life changing theatre arts programme to embark on a career journey in Music, dance, Theatre and the Entertainment Industry
High School Musical is an American televised contemporary musical comedy about Troy, a popular high school basketball star, and Gabriella, a shy, academically gifted newcomer who discover they share a passion for singing. When they sign up together to audition for the lead roles in the school musical it threatens East High's rigid social order and sends their peers into uproar.
The show scheduled to hold between March and May 2010 will run through Auditions (in Lagos and Abuja), callbacks, final selections, Rehearsals, training all the way to the show premier where the 32-member cast and 11-piece band will be unveiled (scheduled for May 27).
20 THINGS YOU NEED TO KNOW ABOUT HIGH SCHOOL MUSICAL NIGERIA
1. High school Musical Nigeria on stage is an adaptation of the 2006 movie that has become the most successful Disney Channel movie
2. High school musical Nigeria is Disney's latest and most recent teen property with exclusive license granted to KIDZ trust spearheaded by entertainment entrepreneur Sheila Okonji Ashinze.
3. The high octane music and dance contest is looking out to produce Nigeria's Gabriella and Troy.
4. Auditions will be staged in Lagos and Abuja and is open to anyone between the ages of 15-25 and successful contestants will be chosen by a team of celebrity judges.
5. The cast of high school musical Nigeria includes industry professionals in the art of singing, dancing and acting.
6. The original High school musical is a contemporary musical comedy about Troy and Gabriella.
7. The show will be sponsored by First Bank of Nigeria PLC.
8. The lucky contestants that are crowned Nigeria Troy and Gabriella would have a chance to further their career in the UK.
9. The shortlisted contestants will enter the training booth camp where they will undergo further training and elimination until the HSM cast is complete.
10. The High School Musical booth camp will be televised and broadcasted across Nigeria.
11. The team at High School Musical on stage includes Kaffy, Stella Damasus, Tarilla Thompson and Emmanuel Ayalogu.
12. Authors and critics have described High School Musical as a modern adaptation of Romeo and Juliet.
13. High School Musical was originally filmed at East High School located in Salt Lake City Utah
14. High School Musical when released in May 2006 recorded a total sales of 1.2 million copies
15. Till date, High School Musical is in three parts.
16. Throughout the project in Nigeria, there would be a number of giveaways and prizes for all participants
17. The High School Musical soundtrack was number one on billboard 200 twice.
18. Peculiar to High School Musical are terms like Auditions and Call backs.
19. It is speculated that since its release in 2006 till date, High School Musical has been seen by 225 million viewers.
20. Kidz Trust is Nigeria's licensee for High School Musical on stage.
WHO IS DOING WHAT
 Owners Disney
 Licence Kidz trust LTD
 Territory Nigeria
 Sponsors First Bank of Nigeria Plc
 Director Tarilla Thompson (Nollywood director)
 Choreographer Kaffy
 Vocal Coach – Stella Damasus
 Acting Coach – Emma Ayalogu
 Executive Director Sheila Okonji-Ashinze
Story by Niyi Tabiti - http://niyitabiti.blogspot.com