INEC Says Ongoing Election Campaigns Violate Law; Threatens Action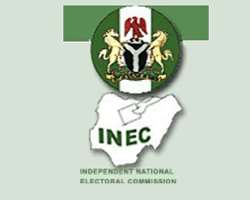 The Independent National Electoral Commission (INEC) has warned that the ongoing electoral campaigns by individuals and political parties violate the law and threaten Nigeria's democracy.
In a press statement today, Kayode Robert Idowu, the Chief Press Secretary to INEC Chairman Attahiru Jega, drew attention to the fact that campaign posters are being indiscriminately displayed, and election broadcasts being aired outside the statutory provision for campaigning towards elections into various elective offices.
'This trend is unhealthy and portends ill for the political process,' the statement said.  'Indeed, it is a threat to Nigeria's democracy.'
INEC reminded all players of the law, in terms of Section 99(1) of the Electoral Act 2010 (As Amended), which states:
'For the purpose of this Act, the period of campaigning in public by every political party shall commence 90 days before polling day and end 24 hours prior to that day.'
It advised political parties to note that campaigning outside this provision is a violation of the law, and the Commission will not hesitate to apply appropriate sanctions, calling on security agents to apprehend violators.
INEC, which is often thought to favour the ruling Peoples Democratic Party and its officials, did not say why it is not taking any action against those who have already violated the law.