U.S. To Weigh Arming Syrian Rebels, Official Says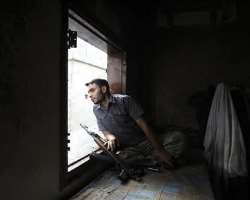 The United States could make a decision as early as this week on whether to arm Syrian rebels, U.S. officials said on Monday, as U.S. Secretary of State John Kerry put off a Middle East trip to attend meetings on the subject.
However, the U.S. government has debated for months whether to provide weaponry to the rebels in their civil war against Syrian President Bashar al-Assad's forces and has so far decided against.
One U.S. official who spoke on condition of anonymity stressed that while a decision on whether to start arming the rebels is possible as soon as this week, deliberations on the issue could easily take longer.
Kerry put off a planned trip to Israel and the Palestinian territories to attend the White House meetings, an Obama administration source said.
What has changed in recent weeks is the tilting of the battlefield against the rebels as Lebanese Hezbollah has entered the fray on the side of Assad's forces, helping them to retake the strategic town of Qusair.
That shift has made it less likely that a U.S. and Russian planned peace conference to bring the rebels and the government to the table would succeed in U.S. President Barack Obama's aim of a negotiated political transition to remove Assad from power.
With Assad's forces, backed by Hezbollah and Iran, gaining the upper hand, he has little incentive to give up power.
The United States and other governments are also weighing evidence that Assad's forces may have used chemical weapons, something Obama has said would cross a "red line."
CONSENSUS ELUSIVE
A consensus remains elusive, with U.S. policymakers still wrestling with concerns that any American weapons could fall into the wrong hands. Also, growing controversy at home over the government's sweeping surveillance programs are expected to occupy much of Obama and his national security team's time.
The renewed focus on Syria comes two years into the uprising against Assad that has seen at least 80,000 people killed and has sent hundreds of thousands of refugees into Turkey and Jordan and displaced millions within Syria.
Fredric Hof, an analyst at the Atlantic Council think tank, said the Obama administration might decide to take charge of the distribution of weapons to the rebels but not necessarily to provide U.S. arms.
"If the president is going to make that decision this week ... I suspect it would be a decision for the United States to take charge of the process by which carefully vetted units of the Free Syrian Army get what they need both in terms of lethal and in terms of non-lethal (aid) and that General Salim Idriss of the Supreme Military Council gets full credit and indeed things would be passed through him," Hof, a retired official who worked on Syria policy in the Obama administration.
If the United States were to channel arms through Idriss, who leads the military wing of the main civilian opposition group, the former Syrian military officer could gain credibility from other fighters and perhaps gain greater control over the notoriously fractious anti-Assad fighters.
Obama this year shifted policy to take the step of giving U.S. medical kits and military rations to the rebels. Arms, however, have been left to Arab nations such as Saudi Arabia and Qatar to provide to the rebel fighters.
"What's been needed here is American leadership and management of a process which, if left in the hands of local actors, simply results in the accumulation of clients and a very uneven supply system in terms of effectiveness," Hof added.
By centralizing the delivery of arms - whatever their origin - it might become easier to get the fractious rebels to work under a single command authority rather than as multiple militias with allegiances to various external powers.
A possible move by the United States to arm the rebels who are fighting President Bashar al-Assad's government forces, was first reported by The Associated Press late on Sunday.
"NO NEW ANNOUNCEMENTS AT THIS TIME" -WHITE HOUSE
Bernadette Meehan, a spokeswoman for the White House National Security Council, said the Obama administration was continually looking at ways to strengthen the opposition but had nothing new to announce.
"At the president's direction, his national security team continues to consider all possible options that would accomplish our objectives of helping the Syrian opposition serve the essential needs of the Syrian people and hastening a political transition to a post-Assad Syria," Meehan said.
"We have prepared a wide range of options for the president's consideration, and internal meetings to discuss the situation in Syria are routine," she added. "The United States will continue to look for ways to strengthen the capabilities of the Syrian opposition, though we have no new announcements at this time."
REUTERS