Pressure Mounts On Hubby To Dump Ini Edo *No, My Marriage Is Still Intact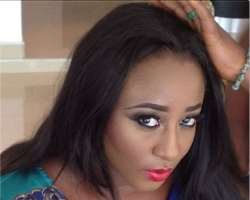 If information reaching Nollywoodgists.com is anything to go by, then there is fire on the mountain for popular actress, Ini Edo and nobody seems to be on the run, as Asa would say.
According to a fresh gist getting to us, Ini Edo is not a happy woman at the moment. The reason is that if urgent steps are not taken, her marriage might crumble and she would join the league of Nollywood actress with failed marriages.
Grapevines alleged that pressure is being mounted on her handsome husband, Philip Ehigwina, by his family members to dump the charming actress.
According to what tale-bearers told Nollywoodgists.com, Ini Edo's in-laws are not happy that the glamorous actress hasn't given them a child after about four years of marriage.
"These Edo people are just too funny, they have already told Philip to chase away Ini Edo since she can't give them a child," one of the gossips told Nollywoodgists.com.
Another said, "but come to think of it, why would Ini Edo's in-laws interfere with her marriage?" This was quickly answered by the first busy-body, "that's Edo culture for you. Their sons don't have much say in their marriages."
We were told by the industry grapevines that Ini Edo has been telling some of her close allies that with the way things are going; Philip might eventually give in to his family's demands. Tale bearers further told us that after Ini Edo attended her late hubby's mother's burial in April 2013, things have really not been well with the once upon a time happy couple.
However, the actress has denied that her marriage is being troubled. She disclosed this to Nollywoodgists.com when we called her to get her reaction on the story that the rumour is unfounded.
According to the Akwa-Ibom-born beauty, "no matter what you people (press) write, it is not going to change the fact that I am happily married. I think you guys should be tired of all these. From the first day I got married, you people have been plotting all sort of evils, I don't know why you are not giving up on it. It is never going to happen. That's what I have to say."
© 2013 Nollywoodgists.com
Click the link below to go to...
Ini Edo's Marriage In Trouble?
I Will Probably Not Stop Acting-Ini Edo
Photonews: Ini Edo Buries Mother-In-Law In Edo State
Ini Edo Breakfasts With President Jonathan In Aso Rock
Tribalism Is Killing Nollywood--Halima Abubakar
Liz Da Silva Pregnant For 3 Men? May Require DNA To Know Child's Paternity
Who Is This Female Nigerian Celebrity In This Picture?