UPDATED: Executive Council Delegation Off To Jeddah In Presidential Fleet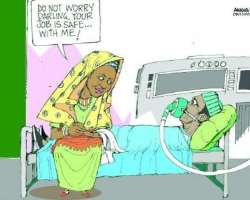 Abuja Feb 20, (THEWILL) - The federal government six-man team set up last week by the Executive Council of the Federation to visit ailing President Umaru Musa Yar'Adua in Jeddah may have left for Jeddah on Saturday night.
Members of the team, who will be travelling with one of the presidential aircrafts in the presidential fleet are expected to arrive Saudi Arabia early Sunday morning.
THEWILL presidency sources confirmed on Saturday that all necessary protocol and clearance required from the Saudi government to see president Yar'Adua in Jeddah has been sorted, while also confirming that visas for the delegation were sorted by the Secretary to the Government of the federation, Alhaji Yayale Ahmed on Thursday.
The executive council of the federation team has Secretary to the Government of the Federation Alhaji Yayale Ahmed, Minister of Health Professor Babatunde Osotimehin, Foreign Affairs Minister Chief Ojo Maduekwe, Minister of Petroleum Alhaji Rilwan Lukman, Attorney General and Minister of Justice Adekotunbo Kayode (SAN) and Agriculture Minister Dr. Abba Ruma.
The delegation is expected to convey a letter of appreciation from the Nigerian government to the Saudi monarch, King Abdullah and also see ailing President Umaru Yar'Adua to ascertain his true state of health.
The Nigerian president who is known to suffer from acute kidney and heart conditions has not been seen in public since November 23rd, 2009 neither has he spoken to anyone in the Nigerian government since the first week of January, except for the controversial BBC interview, giving credence to reports that he is fully incapacitated and brain dead.
The delegation is scheduled to return on Monday or early Tuesday to enable it prepare and submit a report to the executive council on Wednesday morning. The council is expected to make a final pronouncement on the president's capability to discharge the functions of his office on Wednesday.
|
Article source