Manny Eke Drops Hot New Single "Okele" Pix and story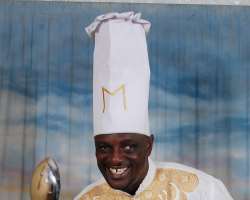 Ever green singer, Manny Eke a.k.a Chief Chef of Naija has released a new single titled "Okele" much to the delight of music lovers and fans.
The new track signals the kick-off of a novel initiative which seeks to provide food for all Nigerians. This initiative will be championed by CHEFA AD, a non-governmental organization responsible for soliciting and educating citizens on the need for food availability.
The self-acclaimed Afro Naija singer, Manny Eke is no stranger to the Nigerian music scene having been in the industry for the past three decades.
The artiste will partner government at all levels, corporate organizations as well as private individuals to support and provide food for the less privileged in the country.
A statement issued by the management of the artiste reads thus, "our focus on the new song is not just to entertain but to pass a message that will address vital issue in our society. This initiative is also in line with the Golden Penny celebrity cooking competition Manny Eke won in 2006".
He added that , "we have always looked at how we can strategically align the cooking award to a song that will make meaning to our fans and also drive home some key messages".
Mr Eke disclosed that food is an essential need for a community, nation and family. The Chief Chef stressed that , "if government can totally eradicate the challenge of food shortage and scarcity in the country, the level of crime and communal clashes will reduce drastically". He called on celebrities and everyone in the entertainment industry to support the cause.
The song will be on air waves from next month and will be in major music stores and outlets nationwide.
Manny Eke has worked with so many musicians like Alex O, Sammy Okposo, Yinka Davies, Lagbaja, Sunny Nneji, Zubby Enebeli, Ego, King Sunny Ade, Mike Okri and others.