We Did Not Ground Oshiomhole's Helicopter Says NAMA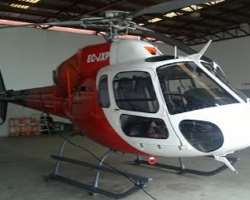 The Nigeria Aviation Ministry said on Friday that the helicopter conveying the Edo State Governor, Adams Oshiomhole, was not grounded, but only asked to obey extant rules.
The Coordinating Manager, Information and Communications for Aviation Parastatals, Yakubu Datti, said the aircraft was only called back to fill its manifest and make some payments which the pilot had failed to do.
'The helicopter picked the governor from government house in Benin. By procedure, the pilot was supposed to file manifest and all other procedures, but because these were not done before takeoff, NAMA (Nigeria Airspace Management Agency) called them down to do all those things.
'Of course you cannot just pick someone up and fly over the airport just like that,' Mr. Datti said
Mr. Oshiomhole's trip was cut short after the pilot of the chartered aircraft was ordered to return to Benin airport when he was already airborne for Awka. The Edo State Governor was travelling to Anambra for the funeral of late Colette Obi, wife of Ben Obi, a presidential adviser on political matters
He angry left the aircraft and returned to his state after it was not cleared over an hour after the pilot, James Manahash, made necessary payments.
The bemused Filipino pilot of the helicopter, owned by OAS helicopters, later expressed his shock at the incident to journalists.
'I have been a pilot for 35 years out of which 7 years in Nigeria. So I was surprised when I was recalled back to the airport after we took off. The Governor prevailed on me to come back and answer them. When we got back I was told to pay landing and aerodrome fee which ordinarily we could pay later.
'Even after completion of the process of payment, we were still delayed for one hour, fifteen minutes with the governor still seated in the aircraft. Ordinarily payment of such fees doesn't take more than ten minutes. This is not the first time I have been flying the governor and we have never witnessed such a disappointment. It is really shocking,' Mr. Manahash stated.
The aviation ministry spokesperson, however, explained that the pilot was only invited to fill his manifest and make necessary payments.
'The governor came down got angry while all this was happening, said they were wasting his time and walked out, the helicopter was not grounded at all,' Mr. Datti said.
Mr. Datti said most of the pilots flying Very Important Personalities (VIPs) tend to break the ministry's rules. He said pilots should, for their safety and to avoid time wasting by any of the aviation parastatals, drop the VIP mentality, settle necessary bills, and follow procedures which normally don't take so much time.
premium times