Who Is After Sunkanmi Omobolanle?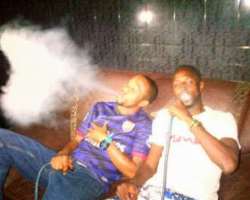 Sunkanmi Omobolanle is the son of Pappy Luwe, the veteran actor; is been rumoured in some circles by some envious group of fellows to be having an affair with the destructive world of hard drugs.
Sunkanmi, who loves to be referred to as Senator Sunkanmi is definitely not happy with some bloggers who are said to have labeled him as a sniffer. Sunkami said, ordinarily, he wouldn't have responded to such nasty story but the fact that the blogger wrote about his wife as being diabolical forced him to react.
"Some idiots wrote that I was caught smoking 'pipe' in my own club. I wouldn't have felt bad after all, I am a popular face, by the virtue of what I do, I am open to such but my wife that the bloggers put in the story that she used 'jazz' to marry me made me feel real bad. Using me or my household as a ladder to climb to fame would only lead them to their destruction," Sunkanmi said.