AY COMEDIAN'S WIFE, MABEL, SET TO WELCOME SECOND BABY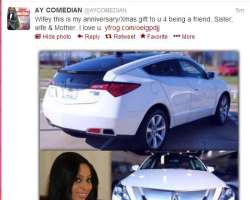 Ayo Makun popularly called AY is definitely in happy mood this season. News is reaching us that Mabel, the comedian's wife is carrying their second baby in the womb. The ace comedian's wife, information reaching us is already in her 3rd trimester and from the look of things she is likely to deliver her baby abroad as we learnt Ayo has been making effort to prepare their travelling document.
We gathered AY is in the best of mood as at now. No wonder he has been showering madam with gifts after gifts all this while. AY is undoubtedly one of Nigeria's wealthiest comedians, so what are those gifts to him anyway.
We are very happy for the lovely couple who already have a daughter, so this would be their second child. Most probably a boy, to take after daddy!