Oge Okoye's Publicist, Egor Efiok, Blasts Blogers! And How Online Comments Is Affecting Oge's Health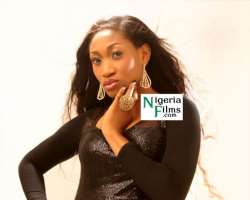 Ego Efiok of E4 PR recently sent some nasty write-up to defend all her clients whose PR company has been managing their image. It's so amusing that despite her claims that she is good at laundering people's image, virtually all her clients are seriously facing media 'slaps'.
"I wonder the kind of PR company she has, none of her clients received any polished media hype, maybe she should just face her movie alone," a media practitioner blasted her.
Meanwhile, Egor said one of her clients; Oge Okoye has developed heart attack over serious media attack from bloggers who often lampoon her. As a PR company, methinks it's a duty of her publicist to readdress the issue to draw sunshine media hype on her behalf.
Below is an extract of the write up that concerns Oge Okoye, released a few days ago..
"Do you want to kill all our celebs with your bullying? I thought you had learnt after Goldie. Celebrities are human and have feelings. In her attempt to re-brand herself, you bullied Oge Okoye and made her hypertensive. "She's an mgbeke"…she's this…she's that…" you kept firing! While you were busy bullying her for nothing, more talent scouts were noticing her.
You were too busy putting her down to even notice the beautiful concepts, only few with the trained eye and who genuinely understand art, left meaningful comments. Look at all the magazines she has covered, yet instead of encouraging her, you bully her even more.
Her first big screen movie with Hollywood stars was just premiered in Lagos and instead of congratulating her, you continued abusing her when you saw photos, with some abusing her dress even though she looked hot. Oge is an only child, please don't kill her for mother."
Meanwhile, cyber bullying had nothing to do with Goldie's death. I remember speaking with her about it and she dusted it aside, laughing. She said people will always talk and she tries not to pay attention to all the talk and just live her life. In fact a week or so before she died she sent me her Grammy photos to put on my blog...if she was afraid of comments, I don't think she would do that.
© 2013 Nollywoodgists.com
Click the link below to go to...
Monalisa Evil Ex Was Texting Her Daily - Egor Efiok
Ini Edo Breakfasts With President Jonathan In Aso Rock
Tribalism Is Killing Nollywood--Halima Abubakar
Liz Da Silva Pregnant For 3 Men? May Require DNA To Know Child's Paternity
Who Is This Female Nigerian Celebrity In This Picture?
Check out Chidi Mokeme's photos from 2face's wedding + his experience with seafood