Automatic ticket for Jonathan unconstitutional-Atiku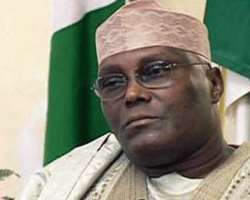 Former Vice-President Atiku Abubakar, has restated his rejection of the policy of 'consensus arrangement' rather than transparent elections to produce candidates for all elective offices, including the presidency.
His reaction followed the suggestion by the Chairman of the PDP Board of Trustees, Tony Anenih, on Thursday in Abuja that the party should give automatic ticket to President Jonathan and governors serving first term in 2015.
The former vice-president said he had repeatedly gone to courts to challenge the undemocratic arrangement and that the rulings of the courts stated that the policy was alien to the PDP and the Nigerian constitutions.
In a statement by his media office in Abuja on Saturday, Abubakar said the principle for which he opposed what he described as a 'travesty of democracy' had not changed.
'My position remains that as far as PDP constitution is concerned, any attempt to change the party's rule to favour the President as a sole candidate in the event of his willingness to re-contest is unconstitutional. The contest should be open to all desiring to pursue an ambition on the platform of the PDP,' Atiku said.
While acknowledging that President Jonathan is entitled to seek the party ticket in 2015, the former vice- president, however, insisted that Jonathan should submit himself to a transparent and fair process just like any other party member.
By foreclosing free and fair process of selecting its presidential candidate, Atiku said the PDP might be sending the wrong message to Nigerians about its commitment to conduct free and fair elections in the country.