Amaechi Visits Omehia, Says "Please Withdraw Suit At Supreme Court"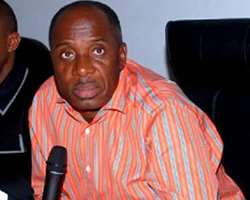 …Let me think about it-Omehia
Faced with the political battle of his life, embattled governor of River state, Chibuike Rotimi Amaechi has paid a surprise visit to his cousin and former governor, Sir Celestine Omehia in a bid to reconcile with him.
Pointblanknews.com sources hint that Amaechi had several months ago made efforts to reconcile with Omehia but the latter refused to cooperate with him. He is also reported to have sent emissaries to plead on his behalf, all to no avail.
The source said Amaechi finally met Omehia on Thursday, May 23, 2013, few hours to the day the Nigerian Governors' Forum election took place.
The visit which took place at Omehia's Abuja residence provided Amaechi the opportunity he had long craved for to reconcile with his estranged cousin.
Amaechi was said to have gone on the reconciliation visit with the suspended Leader of the State House of Assembly, Hon. Chidi Lloyd and among other dependable allies.
Both Omehia and Amaechi had maintained hard stance since the former was booted out of office by the October 25, 2007 controversial Supreme Court ruling in favour of the latter.
While Amaechi rejoiced and celebrated for reclaiming his mandate, Omehia was left alone in the cold gnashing his teeth. It was then that it dawned on him that the hundreds of thousands of supporters, loyalists and admirers who flocked around him did so because of what they got and hoped to get – political fair weather friends. As though that was not enough, the Supreme Court ruling clause, which stated that he (Omehia) never existed in the eyes of the law was interpreted by his successor and implemented to the last letter that he was not and should not be addressed as a former governor.
Sources at the Rivers state Government House told Pointblanknews.com that Amaechi hated his cousin to the extent his name (Omehia's name) is not on the Govt. House protocol list as a very important personality (VIP) let alone a former governor.
'It is like Amaechi is regretting most of his actions against Omehia.
Recently, he has made moves to reconcile with him, but Omehia refused until he was placated by their some of their Ikwerre kinsmen and a reputable cleric in the state. Omehia's enlargement photograph that once adorned the executive council chambers of the Govt. House was also removed. This is just a tip of the iceberg of what Celestine Omehia went and has been going through all these years,' the source said.
No sooner had his cousin, Amaechi assumed office as the State Chief Executive than the state treasury was declared emptied by his predecessor, Omehia as well as the contracts duly awarded and paid for while his five month regime lasted was dubbed reckless spending of public funds by Amaechi.
To Omehia, it was a nightmare that same Amaechi who was instrumental to his selection as his substitute sequel to the K-leg saga could go so far to unseat him and press further to ridicule him even in his predicament.Since then there has never been any love lost between the two brothers.
The enmity did not stop there, all their supporters also partook in the fight. The Amaechi/Omehia feud also spread to all that related to the fighting giants.
Even the Ubima community has not been the same ever since, with Omehia's loyalists still feeling aggrieved and nursing animosity against the jubilant new dictators that see themselves as Amaechi's hatchet men.
Having nowhere to appeal what he described as gross injustice by the Supreme Court, Omehia may have resorted to prayers, hoping God would provide him consolation no man, no politician could give him.
He was later to decamp the Peoples Democratic Party who rather than identify with him at this moment of need chose to follow Amaechi to make up for its losses.
He was lucky that the All Progressives Grand Alliance (APGA) was handy to accept and compensate him with the governorship flag of the party in 2011, four years after.
Even though Sir Celestine Omehia did not win the election and came second, little did he know that the April 26, 2011 would provide him the opportunity to express his anger and disapproval of what he suffered in the hands of Governor Amaechi and the PDP.
That was when one Cyprian Chukwu went to an Abuja High Court to secure a ruling that  Amaechi should not stay in office a day longer than May 28,
2011 even against the INEC's position that the governorship election in Rivers State would be in October 2011, when Amaechi would have completed his four year first term.
Amaechi was sworn into office on October 27, 2007.
Based on this contested court ruling, the INEC went ahead to conduct elections in Rivers State on April 26, 2011 in which Amaechi participated on the platform of the PDP.
To Omehia, this amounted to tenure reduction which is as a serious offence as term elongation.
Consequently, he (Omehia) went to court to challenge the alleged illegality which is still in court and seen by many as a potential threat to Amaechi.
Despite all the delay tactics by the incumbent administration to scuttle the effort, Omehia has refused to give up, hoping he will get justice even if it means cancelling the April 26, 2011 election which both Amaechi and Omehia are praying for in the Appeal Court.
Amaechi's fear in this regard is understandable. Not just losing the case to Omehia but it's most unlikely that he will be renominated as the PDP candidate in view of his present travails.
His political structure in the state has been demolished with the sacking of his hatchet man, Chief G. U. Ake and his lieutenants, the 27 members of the State House of Assembly that pretend to be on his side are also suspended from the party.
To the majority of the PDP governors across the country, PDP leaders and the Presidency, Amaechi is a persona-non-grata.
The Nigerian Governors Forum is more or less destroyed with two factions claiming victory in the last election.
Amaechi's supporters are mainly of the opposition parties who do not have a say in PDP and therefore not in position to help him out.
To add salt to injury, the PDP National Working Committee (NWC), Monday, May 27, 2013, Amaechi's birthday, wielded the big stick, suspending him from the party for anti-party activities.
This is the second time Amaechi is being suspended from PDP. The first time was in 2007 and was reinstated when he became governor.
As hopeless as the situation seems, Amaechi's scanty supporters in the state still believe their principal will weather through the storm unscathed. But he who wears the shoes knows where it pinches.
This explains why meeting and reconciling with his hurt cousin, Omehia, even if it means kneeling down for him is now a necessity.
Who knows what else his detractors may be coming up with? More so, as dumping the PDP and joining another party may not help matters.
The new electoral laws, pointblanknews.com learnt, does not allow that except one wishes to forfeit his position which he (Amaechi) may not contemplate.
Doing so may be a direct passport to the nation's Siberia - the EFCC.
Though details of the reconciliation meeting between the duo is still scanty as at press time, it's not likely that the reconciliation that could not be contracted in the House of God as once brokered by Archbishop Ignatius Kattey will easily scale through via close doors.
Meanwhile, a powerful lawmaker (name withheld) who was also in the delegation to see Sir Celestine Omehia told Pointblanknews.com that Amaechi almost knelt down in tears to beg Omehia to forgive him.
'I know I have offended you. I am ready to compensate you. We can work together. Please accept to withdraw the case from the Court. If you fail to withdraw and I am sacked by the Supreme Court both of us will be the losers. Somebody will benefit', Amaechi lamented.
According to same source, Amaechi was with Omehia on Thursday May 23, 2013 till about 2am on Friday, May 24, 2013 and repeated same day at 8am.
Omehia was said to have bluntly refused to accept the offer and plea to withdraw the case from the Supreme Court but  told Amaechi to give him time to think about it.