ROTIMI AMAECHI: HIS ONLY SIN IS HIS VICTORY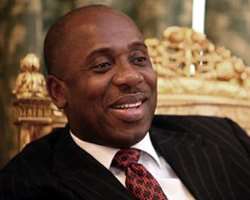 Nigeria, the self-acclaimed giant of Africa, is one of the few countries where citizens become endangered species once they foray into politics.
At the beginning of the face-off between the camp of Rivers state governor, Rotimi Amaechi and the powers that be, I said that in not too distant future, a major player in the continuing battle would raise a disturbing alarm. The assertion came to pass seventy-two hours days after the chairmanship election of the Nigeria Governors' Forum, NGF. The duly re-elected chair of the body (as we've all now confirmed) at a gathering, alleged that "Federal People" were after his life; "Pray for me" he pleaded.
As for the traitor called Nyesom Wike, Minister of State for Education, he has given credence to the axiom: Best friends can be worst enemies. Thanks to him, governors now have an impeccable reason not to nominate their Chief of Staff for federal appointments. I am sure Amaechi, even with 99% alcohol in his blood stream, will not repeat that faux pas if the hand of time is reversed. Wike is playing god and his body language corroborates this. He is emboldened by his possession of the Rivers state People's Democratic Party executive committee and the promise of a governorship ticket in 2015. Obviously to secure his political future, he has handed over his goodluck to Goodluck.
A research shows that on the issue of short-list for national executive jobs, most governors eventually regret the choice/s they make. It appears that a demon enters some of the appointees soon after they land juicy posts; pertinent to add that Ministers and head of parastatals are the usual culprits. You need to see their intimidating convoy in Abuja, the nation's capital. These are people that hitherto had only one or two cars. Merely weeks into their new found glory, they wear arrogance like a well-tailored Babaringa. You then wonder how a man, who had to face 106 Senators for screening and probably asked to recite the National Anthem like a Primary Two student, suddenly lives and act like an emperor.
The Federal People and the leadership of the PDP, supported by their apologists, claim that their common foe siphon monies meant for developmental projects; that his achievements does not match funds allocated to/generated by the state; that he has marginalized some quarters; that he doesn't kiss the foot of the President…bla bla bla. But do you on the basis of that scheme the man's removal without following due process? I am not in any way supporting his deficiencies, but if you do not like an elected public office holder and wish to remove him, it is required that you at least respect the provisions of the constitution.
For the benefit of those with little or no idea of the genesis of the conflict, let me bring you up to speed. Sometime in 2012, Amaechi at a meeting declared that as an Ikwerre from Ubima in Ikwerre Local Government Area, it would not be fair for another person from same Ikwerre to succeed him in 2015.
The statement which makes sense, in view of the peculiarity of our multi-ethnicity, did not go down well with Wike, also an Ikwerre from Rumuepirikom community; he has his eyes set on the State's number one seat. Since then, he has colluded with the Presidency to make life hell for his one-time friend.
Adekoya Boladele, in his recent opinion advised President Jonathan to take a cue from his estranged godfather, if he really wants to rubbish someone. "I think the President need to talk to former President Olusegun Obasanjo and learn a thing or two on how to bring down his political enemies…Every attempt by him to bring down Amaechi has brought the presidency to ridicule and public condemnation," he opined.
No doubt the Rivers helmsman is now widely regarded as a hero and someone being victimized for daring to say NO to certain policies; for having the audacity to show legitimate interest in a attaining a higher position in life. I thought ambition is one of the attributes we all possess as human, so when did God label it a sin or have I been in coma since birth? I totally agree with the comment by Sokonte Davies, a House of Representatives member on platform of PDP. Reacting to the controversy surrounding the outcome of the NGF poll, he declared that this is the first time in history somebody is being punished for winning.
At a time most of his colleagues in same party would sit on the fence to avoid a clash with the overall Oga at the Top, Amaechi would always speak his mind. Few days to the disputed election, there were reports in the media of how Jonathan forced some state governors to vote for his last-minute candidate, Jonah Jang of Plateau. Of course they bowed to his inclination because intelligence gathered against them revealed staggering and monumental corrupt practices.
Come to think of it, PDP as a party has a thing for Septuagenarians. National chairman, Bamanga Tukur; Board of Trustees chairman, Tony "Mr. Fix It" Anenih and lately, favoured stooge, Baba Jang, are all above the age of 70! Not surprised though, the party's National Youth Leader, Garba Chiza, is 61 years old!
The treatment being mete out to Ameachi is prejudicial and I urge the 27 supporting members in the House of Assembly to remain unshaken in their resolute to do the right thing. Posterity will not take it lightly with them if they sell their conscience even for porridge worth billions.
Two years to his re-election, President of the United States, Barrack Obama, invested heavily in the youth as well as information communication and technology. He embarked on sweeping health reforms, boosted foreign bilateral trade and partnership, and re-moulded his country's image in a bid to portray it as a friendly world power and not a war monger.
Here, it is two years to general elections and electricity supply is yet desirable. In fact as I typeset this piece my generating set is on, while they are busy lavishing our collective wealth on a frivolity tagged 'Democracy Day Presidential Dinner'. Healthcare and education sectors still cry for help yet we are building more federal universities and doing ground-breaking ceremonies for hospital projects; urban settlements still get royal treatment to the detriment of satellite towns which in actual context are slums; the SURE-P jobs they make so much noise about are only seen by them – we should ask our statistics' managers to tell us if unemployment has reduced from 24% it was in 2011; internal security is at the scariest level with three states slammed with State of Emergency and others at the risk of same; one can go on.
Instead of working vigorously to ensure that efforts (whether that is enough requires a separate debate) injected in these areas are seen and felt by the ever-expectant electorate, we are fuelling the split of our Governors' Forum. What a shame; Oh, what a big shame!
Written By Wale Odunsi
[email protected]


Disclaimer:

"The views/contents expressed in this article are the sole responsibility of the author(s) and do not necessarily reflect those of The Nigerian Voice. The Nigerian Voice will not be responsible or liable for any inaccurate or incorrect statements contained in this article."
Articles by thewillnigeria.com