Home Price Rise Sets Seven-Year Record In March: S&P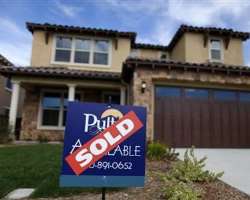 U.S. single-family home prices rose in March, racking up their best annual gain in nearly seven years in a further sign that the strengthening housing recovery is providing a source of support for the economy, a closely watched survey showed on Tuesday.
The S&P/Case Shiller composite index of 20 metropolitan areas gained 1.1 percent in March on a seasonally adjusted basis, topping economists' forecasts for a 1 percent rise.
Prices in the 20 cities jumped 10.9 percent year over year, beating expectations for 10.2 percent. This was the biggest increase since April 2006, just before prices peaked in the summer of that year.
All 20 cities covered by the index saw yearly gains for the third month in a row. Average prices in March were back at their late-2003 levels.
Prices in Phoenix continued their sharp ascent, rising 22.5 percent from a year earlier. Other standouts included San Francisco, up 22.2 percent, and hard-hit Las Vegas, up 20.6 percent.
The housing market turned a corner in 2012, several years after its far-reaching collapse. The recovery has picked up since as inventory tightened, foreclosures eased and historically low mortgage rates have attracted buyers.
For the first quarter of this year, the seasonally adjusted national index rose 3.9 percent, stronger than the 2.4 percent gain of the final quarter of last year.
The data provoked little reaction in financial markets. Wall Street was poised to open higher as comments from central banks around the world reassured investors that supportive monetary policies would remain in place.
REUTERS