Internet Scammer Bags Two Years Imprisonment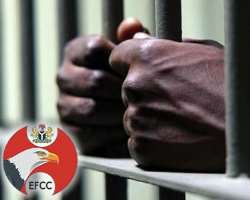 SAN FRANCISCO, May 27, (THEWILL) – Justice Morenike Obadina of the Lagos High Court on May 22, 2013, convicted and sentenced Korede Onamuti to two years imprisonment for obtaining goods by false pretences, stealing and attempt to commit felony.
The convict, alias Kayode Korede, Dare Onamakinde and Mark Mance, was arraigned by the Economic and Financial Crimes Commission, EFCC on March 1, 2010, on a 17-count charge of attempt to obtain goods by false pretences.
The convict initially pleaded not guilty to the charges but later changed his plea after three years of trial. He was consequently convicted by Justice Obadina on all the 17- counts preferred against him. He was sentenced to two years imprisonment on each of the counts and the sentence is to run concurrently. The court also ordered that all valuables fraudulently acquired by the convict should be returned to the complainant.
Onamuti's journey to prison began on May 19, 2005 when he placed orders on-line for jewelleries like cross pendant; baroque pendant and sun catchers from Ultimate Crystal Inc., Michigan, United States in the name of Korede Onas, with a fake credit card. The cost of the acquired jewelleries was $848.70. An official of Ultimate Crystal contacted a local Non-Governmental Organization, Human Rights and Justice Group which petitioned the EFCC on the fraudulent activities of Onamuti.
He was eventually arrested and prosecuted by the EFCC.