EFCC, NBA Close Rank Against Money Laundering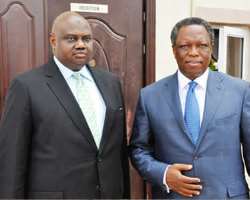 EFCC CHAIRMAN, IBRAHIM LAMORDE (L) WITH NBA CHAIRMAN OKEY WALI DURING LAMORDE'S VISIT TO THE NBA. MAY 27, 2013
SAN FRANCISCO, May 27, (THEWILL) – The Leadership of the Economic and Financial Crimes Commission and the Nigerian Bar Association have resolved to forge common ground in the fight against money laundering in Nigeria. This understanding was the high point of discussion on Monday when Ibrahim Lamorde, Executive Chairman, EFCC, paid a courtesy visit to the President of the NBA, Okey Wali.
According to a statement by the EFCC spokesman Wilson Uwujaren on Monday, the EFCC chairman who expressed his delight with the NBA president for launching a campaign to restore the integrity of the bar and the bench through the setting of the Anti- Corruption Commission, called on both organisation to leverage on the existing relations between them in resolving the current impasse over compliance with anti- money laundering regulations. "The issue of members of the bar association being designated as Non Financial Institutions and the Anti Money Laundering law requiring some kind of reporting to be made by members of the association. I know the matter is in court, and most people will say it will be subjudice to discuss about it, but I think we are talking as a family not as adversaries…my humble request and suggestion is that we should explore other avenues of resolving the existing differences with regards to this issue of reporting and maybe it could be resolved outside the court,'' he said.
Lamorde blamed the on-going litigation on the non exploration of avenues for discussion by both bodies, stating that dialogue remains the best option to resolving the matter. He suggested the setting up of a joint committee by both organisations, to look at the contending issues with a view to arriving at a position that would be acceptable to all.
Responding, the NBA chairman who described the EFCC boss' assignment as the most important given the pervasiveness of corruption in Nigeria, commended him for his resolve to build an institution rather than engage in self- aggrandisement. He underlined the commitment of the bar association to the fight against corruption as evidenced by the decision to set up the anti-corruption commission which impact has began to manifest.
Wali further expressed the NBA's willingness to dialogue with the EFCC, adding that the on-going litigation was not a barrier to resolving the matter amicably. "The NBA is open and will be receptive to any committee set up by the EFCC towards resolving the existing differences outside the on-going litigation, the law is meant for man and not man for the law", he said.
He however said the association was mindful of the independence of the bar and would not want to be regulated from the outside.
Lamorde was accompanied on the visit by top management staff of the Commission.