Etisalat Makes Top Bid For Vivendi's Maroc Tel: Sources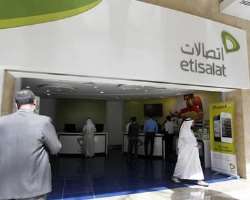 Gulf telecom operator Etisalat has offered a higher price for Vivendi's Maroc Telecom stake than rival Qatari bidder Ooredoo, according to two people familiar with the matter.
Etisalat's bid needs further work, however, and has more legal conditions than Ooredoo's offer, so Vivendi has not yet made a final choice, the people said.
"If Etisalat cleans up its offer, then it wins," said one of the sources, who is close to the process. "If not, it will go to Qatar, who also made an offer that Vivendi can accept."
While the exact prices of the offers were not clear, sources earlier told Reuters that they had come in lower than the 5 billion euros ($6.5 billion) Vivendi had initially hoped for and closer to the market value of the stake.
Vivendi's 53 percent shareholding in Maroc Telecom is now worth 4.34 billion euros.
Maroc Telecom offers fixed-line, mobile and Internet services in the kingdom and is one of Africa's top telecom firms, with units in Burkina Faso, Gabon, Mali and Mauritania.
The buyer will inherit a firm that has been a reliable cash machine for Vivendi but has seen slower growth in recent years, analysts say, although there is growth potential in sub-Saharan Africa, where sales and profits rose last year.
Vivendi has been in talks in recent weeks with Etisalat to remove some of the legal clauses in its bid, the sources said. The UAE-backed group has scheduled an extraordinary shareholder meeting on May 28 to approve the financing package for the bid.
Ooredoo, meanwhile, crafted its offer with minimal conditions to make it simple and less risky for Vivendi, the group's strategy chief told Reuters earlier.
Vivendi has not asked Ooredoo to improve its offer so far, the first source said. Ooredoo is frustrated with the slowness of the process and what it sees as a lack of communication from Vivendi, said two other sources familiar with the situation.
Vivendi may choose a preferred bidder with whom to continue exclusive negotiations next week after the Etisalat vote, but it could also take longer, the first source said.
Spokesmen for Vivendi, Etisalat and Ooredoo declined to comment on Friday.
GROWTH SPRINGBOARD
Both bidders are eager to sign a deal with Vivendi before the Muslim holiday of Ramadan, which begins in early July.
For Vivendi, the sale of Maroc Telecom is crucial to its ambition to lessen exposure to capital-intensive telecoms and focus on its media activities in video games, pay TV and music.
Investors have been eagerly awaiting progress on the divestments, especially after Vivendi's attempted sales of its video games and Brazilian telecom units fell through.
Vivendi previously said the Maroc Telecom sale would not be finalized before the autumn and that it was working closely with the Moroccan state, which owns 30 percent of Maroc Telecom and will have to approve the buyer.
Both Etisalat and Ooredoo see Maroc Telecom as a way to expand their footprints in Africa, and both have expanded aggressively overseas in the past decade.
Etisalat, which is 60 percent owned by the UAE, relies more on its home market for revenue and sales than Ooredoo, however, with 60 percent of revenue and 71 percent of core profit earned domestically, according to HSBC research.
"We think it will be a very close-fought race," HSBC analysts wrote in a note. "We expect the victor, whoever it is, to use Maroc Telecom as a springboard to further acquisitions in the Africa region."
($1 = 0.7751 euros)
REUTERS