Nigeria Has 1,497 illegal Borders- Interior Minister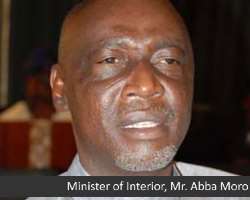 The Minister of Interior, Abba Moro, said on Thursday that Nigeria may require a whopping $244 million (N38 billion) to effectively police its borders.
The minister, who spoke against the background of the country's current security challenges, also said there are 84 legal borders and 1,497 illegal ones, even as he admitted that the nation's border are porous.
Mr. Moro was at the national headquarters of the Peoples Democratic Party, PDP, Abuja, where he briefed the National Working Committee, NWC, of the activities of his ministry.
He stated that the United States Department of Home Security has agreed to help Nigeria by supplying it surveillance equipment. He, however, said that some of the components were listed in a proposal sent in by a Chinese company.
'We are making efforts to procure appropriate modern technology to be installed along our borders and we are collaborating with the US State Department and a private Chinese company for which we had initially received a cost of $244 million,' Mr. Moro said.
'With the assistance of the U.S. State Department, we realized that some components of the offer we got from the private firm were contained in what the State Department would be offering us. When we have done this, the temptation of illegal entry into Nigeria will be reduced.'
The minister said that the ministry has already initiated moves to monitor the expatriate quota, adding that henceforth it will only grant quotas in areas where Nigerians are not able to occupy.
'Only the minister has the power to approve expatriate quota. We are going to ensure that approval would be granted in areas where Nigerians are not able to occupy,' he said.
Mr. Moro regretted that the country is sometimes constrained to grant quotas beyond what it expects because of the huge investments foreigners bring.