Reception Of Prof. Achebe's Remains....Enugu Airport [PHOTOS]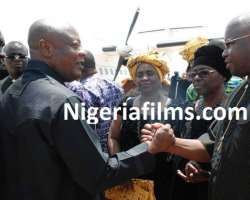 The body of late Nigerian author, Chinua Achebe arrived in Nigeria earlier today in Abuja. Prof. Achebe's body arrived in a Nigerian flag-draped casket which was received at the airport by Nigerian officials led by the Secretary to the federal government.
His coffin was then wheeled first to a church service at the Nnamdi Azikiwe International airport before proceeding to the Federal Capital Territory, Abuja.
ENUGU STATE DELEGATION: Secretary to Enugu State Government, Mr. Amaechi Okolo with SSA to Gov. Chime on Media, Mr. Afam Okereke, Prof. Mrs. Christy Achebe, wife of late Prof. Chinua Achebe, Dr. Ike Achebe, son (right) and the Commissioner for Poverty Reduction and Human Development, Mr. Godwin Ogenyi (left), at the Akanu Ibiam International Airport, Enugu, to receive the remains of Prof. Achebe …yesterday
Enugu State SSG:Secretary to Enugu State Government, Mr. Amaechi Okolo commiserates with Dr. Ike Achebe (son of late Prof. Chinua Achebe), while his mother, Prof. Mrs. Christy Achebe looks on, during the reception of late Prof. Achebe's remains, at the Akanu Ibiam International Airport, Enugu…yesterday
Chief Daniel Achebe: Chief Daniel Achebe (brother to late Prof. Chinua Achebe),middle, flanked by some family members, at the Akanu Ibiam International Airport, Enugu to receive the remains of the late Prof. …yesterday

Additional report: Saharareporters
See More Pictures HERE