Okorocha Releases N5b For Youth Empowerment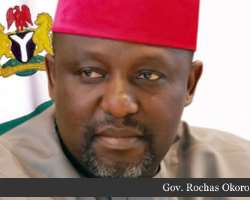 ..As Govt Sponsors 100 for Pilot Training
Imo state governor, Owelle Rochas Okorocha has doled out the sum of 5 billion naira for youth empowerment scheme under the "Youth Must Work" programme.
Okorocha stated this while addressing Imo youths during the launching the 'Youth Must Work ' programme at the Heroes Square, Owerri.
The governor said under the programme, 100 youths will be trained as pilots in South Africa while another
200 youths will undergo entrepreneurial training in Singapore.
Okorocha explained that youths in each of the 560 communities in the state would form a co-operative so as to access an interest-free loan to from the N5 Billion Naira for integrated farm practice towards improving the economy of the rural communities.
He further disclosed that unemployed graduates in the state will be paid monthly stipend of N20,000 to sustain them until they gain employment.
He added that the state will partner with business establishments and companies for possible deployment of the unemployed youths so as to engage them positively.
He attributed the high rate of unemployment in the country to corruption, primitive accumulation of wealth and selfishness of the leaders.
The governor who lamented the level of corruption that marred the activities of the past administration, however called on the EFCC to visit the allegation of about 62 billion Naira allegedly looted by ex-governor Ikedi Ohakim and his aides.
Okorocha promised to partner with the Imo state House of Assembly to enact necessary laws for the sustainability of the Youth Must Work programme.
He advised the youths to take advantage of the programme by imbibing the spirit of honesty, sincerity and handwork.