GOOD GOVERANCE AND TRANSFORMATION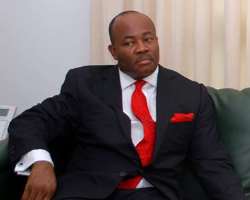 GOVERNOR GODSWILL AKPABIO OF AKWA IBOM STATE
BEING A PAPER DELIVERED BY HIS EXCELLENCY, CHIEF GODSWILL OBOT AKPABIO, EXECUTIVE GOVERNOR AKWA IBOM STATE AT THE GOVERNOR'S FORUM ORGANISED BY ICPC ON MAY 16, 2013
I pay tribute to the Chairman of the Independent Corrupt Practices and other Related Offences Commission (ICPC), Hon. Ekpo Nta and his indefatigable team for the brilliant idea of hosting this forum. This lofty initiative bears testimony to the genius of Hon. Ekpo Nta. Apart from shedding light on seemingly hazy issues, it is a welcome opportunity for elected officers to relate with the electorate.
I salute the foresight of our former President, His Excellency Chief Olusegun Obasanjo, in setting up this body and the Economic and Financial Crimes Commission. You have in definite terms helped to bring forth good governance and attempted to weed out corruption in our midst. You have slain many giants in this patriotic effort, but there are still some Goliaths in the land. We are proud of your work and we urge you to continue with this zeal. I Thank you for this great honour of inviting me to share my thoughts on good governance and transformation with you in this forum.
The late Zimbabwean nationalist leader, Joshua Nkomo (1917 – 1999), who was the spirit behind the successful fight to wrest Rhodesia (now Zimbabwe) from the clutches of apartheid, said in his book The Story of My Life, "The hardest lesson of my life has come to me late. It is that a nation can win freedom without its people becoming free."
I believe that the challenge of our nation, which became free in 1960, is for our people to become free – free from fear, free from murder, free from kidnapping, free from poverty, free from ethnicity, free from bombing. In fact not only become free from all the ills which currently beset our society; but also free to worship God anywhere in our country, free to practice any religion of his choice without fear or molestation, free to live anywhere in this country without apprehension, free to carry out his legitimate business anywhere in our country without harrassment, free to enjoy anywhere in this blessed country all the fundamental human rights enshrined in hallowed extant manuscripts of freedom in the free world.
I believe that the main challenge militating against good governance is that Nigerians are yet to be free. The statement of Joshua Nkomo has become a reality in our time. It all began in the days of military rule, when certain groups and people were in perpetual servitude, while some privileged others enjoyed the fruits of the labour of those in servitude. Military dictatorships, by their nature, could not deliver good governance because they are not accountable to the people. But their misgovernment introduced a culture of injustice to some people and privileges for others. This led to certain persons believing that it was their right to infringe on the fundamental human rights and freedom of other persons and groups. Nigerians must correct such ills, because injustice anywhere is a threat to justice everywhere. So good governance at it relates to a free society is as much a function of government as it is the civic duty of the governed.
All these bring us to our theme, "Good Governance and Transformation." But before we delve into this topic, let us pose the question, "What is wrong with Nigera and what has denied us good governance all these while?" There are, probably, as many answers to this question as there are Nigerians. According to the recently departed, literary icon, Prof Chinua Achebe (1982), "The problem with Nigeria is simply and squarely a failure of leadership." To the renowned Nobel laureate, Professor Akinwande Wole Soyinka, the problem is that Nigeria is "like a quilt-work of allegiances (and) alliances." To the eminent former Secretary to the Federal Government, Alhaji Shehu Musa, the problem is that "We need to improve on our resource management to be able to achieve eradication or even reduction of poverty level." In my estimation, what is wrong with Nigeria is that poor leadership by past leaders led to the problem of corruption. Corruption ranges from stealing to inflation of contracts. Corruption occurs when leadership fails in the management of resources and lacks the ability and courage to plug loopholes in the economy.
Our country has been drowning in a sea of corruption and we urgently need men of goodwill, like you, to salvage our situation. It is corruption when leaders take decisions on the basis of tribal sentiments, rather than common sense. It is corruption when projects are sited near the homes of those in authority and not in proximity to raw materials. It is corruption when a NAFDAC official tests a drug and certifies it as good because he has been financially compromised. The drug would, thereafter, become a menace to society and lead to the death of innocent citizens. It is corruption when a Custom official allows dangerous weapons to be smuggled into this country and such weapons are used to kill people. It is corruption when a contractor or government inflates a contract and forgets that whatever money government has it holds in trust for the citizenry.
If we must achieve good governance, we must collective fight and stop corruption. Men and women in positions of influence in bodies such as anti-corruption and law-enforcement agencies, should not use their positions to settle personal scores. The man who banks Government money and denies the people the fruits of democracy (like it was done in a particular state) and ends up leaving billions in the bank is guilty of denying the people the dividends of democracy. We must remember that justice delayed is justice denied. Such a man would breed discontent and cause social problems like Boko Haram. Like the Bible says, "Where there is no vision, the people perish."
So what is 'Governance and Transformation'? John Locke's Social Contract Theory, stipulates that governance is a social contract between the government and the governed. This social contract's aims are to promote peace and harmony and enhance the human status. Power, Locke maintains, belongs to the people, and the transformation, which the people expect from those they entrust with power, is not just a right, but also an obligation. Accordingly, governance, which is the act of governing, is expected to ensure total and absolute transformation of the social system.
The word Governance is derived from the Greek word "kubernáo" which means to 'Steer'. The World Bank describes "governance" as "the manner in which power is exercised in the management of a country's economic and social resources for development." Governance Analytical Framework (GAF), describes governance in a broader perspective, referring to it as the "processes of interactions and decision-making among the actors involved in a collective problem, that lead to the creation, reinforcement or reproduction of social norms and institutions"
Governance should reflect a state's ability to serve and protect its citizens. Rules, processes, and behaviours should guide this conduct and determine how interests are articulated, resources are managed, and power is exercised to benefit everyone in the society. Transformation should provide a basis for measuring the performance of those in government.
Transformation underpins changes experienced in the society through the act of governance. Changes should be thorough, planned, visionary and dramatic. The transformation of the polity has become the prime expectation of the people while choosing their leaders. The people want to be, and deserve to be, transformed because what they were born to see is not what they were born to live. Governance must add value to lives and give life new meaning through transformation.
Since governance is a contract (as established above through the Social Contract Theory of John Locke), the masses give power to the few who govern them and in return expect effective leadership - leadership that will bring notable changes and reformation to the social system. Government must therefore set an agenda for development and management of the common wealth of the people. When Government fails, another hope is betrayed. When Government succeeds, there is joy approximating the joy of a sports victory in the land. This we have experienced in my state.
We must commend the President and Commander-in-Chief of the Armed Forces of our nation for his transformational governance of our country. The imprints of transformation are manifest in the agricultural, power, health, transport and indeed all sectors of the economy. His vision for our country bears eloquent testimony of this. Though beset with many challenges, he has done a difficult job well and made every patriotic Nigerian proud.
The topic of Good Governance and Transformation is very apt in considering the last six years of my administration. It is my candid belief that it was in appreciation of what we have done that you invited me to talk with you. Let me start by saying that we began our administration in 2007 by putting in place the principles of responsible governance. We plugged all loopholes in the system and employed best practices in the management our resources. With a budgeting of over 80 per cent capital expenditure and less than 20 per cent recurrent, we were embarking on a journey of transformation of infrastructures. To travel that road with us we made up our minds to engage companies with the right skill and technology to build time-tested and durable infrastructure. Some cynics wanted us to play politics with our projects but we knew that you could only have five star jobs from five star companies. At the same time we also appreciated that there were a litany of jobs, which did not need such high tech skills, and we left those ones for our non-skill populace.
The result of these policies meant that our roads (and we have had the best companies in the world construct them) came with over 20 years no-pothole guarantees. We also maintained a high level of fiscal discipline and put in place a team of highly competent professional project managers who understood and interpreted our vision and ensured that projects were not only delivered on time, but complied with contractual details and specifications. For example, after our inauguration in 2007 our team raised queries about a company, which we inherited at the Ibom Airport. They wanted proof from the company that they had the skill and technology to handle the airport contract. After series of meetings, where they pointed out that the quality of their work (which was then at ten per cent level of completion) had various failures, they absconded in the night. They apparently discovered that it was not business as usual, and that they could not meet up with our standard.
Let me state that Akwa Ibom State is a place where governance in the last six years has become synonymous with uncommon transformation. When we assumed office in 2007, we inherited a state begging for transformation. We met a pedestrian state, which was the reservoir for house-helps and a haven of hewers of wood and drawers of water. Everything cried for change, and we folded our sleeves in positive anger and went to work. Today, we have proven that the difference between performance and nonperformance is imagination.
We have aggressively transformed not only the length and breath of the state but most importantly the psyche of our people.
POVERTY ALLEVIATION:
The South African legend, Nelson Mandela, once said, "Overcoming poverty is not a task of charity; it is an act of justice." Alleviating the citizenry from poverty is rendering justice to the people. Our transformation efforts, therefore, was channeled to programmes and policies aimed at reducing poverty and empowering our people. Records have it that more people die of hunger than health related challenges like HIV/AIDS, malaria and tuberculosis. Thus it is sacrosanct for government to direct its efforts towards alleviating poverty.
In Akwa Ibom State, we have an impressive record of poverty alleviation programmes. We have developed robust programmes and policies with the aim of empowering our people and reducing poverty in the social system. Like Charles Darwin said, "If the misery of the poor be caused not by the laws of nature, but by our institutions, great is our sin."
These noble programmes include the provision of micro-credit schemes for small and medium scale businesses; the provision of grants to women for Agriculture and Small scale businesses; the training and empowerment of youths in Agriculture; the routine award of non-skilled contracts to the people of the state in order to empower them and re-distribute wealth. Through the Inter-ministerial Direct Labour Scheme, we have done over 4,000 projects including the renovation of school buildings, health centres, civic centres, water and electricity projects etc. More than one hundred of these projects have been completed in each of the 31 local government areas. The concept is to empower residents of the state by awarding these contracts to them. The aim is to alleviate poverty, enhance the lives of citizens and boost and expand the state economy.
HEALTHCARE SERVICE:
The provision of qualitative healthcare services to the citizens is a task no responsible government can shirk. Only God knows how many people have died because of the dearth of medical facilities or inability to access medical care in the developing countries of this world. Sadly, though, many others travel long distances to receive medical care and this constitutes a health risk in emergencies.
One issue of grave concern in our country is the high rate of infant and maternal mortality. Many pregnant women, due to economic reasons, prefer traditional birth attendants. While the elderly, who do not have people to take care of them, pine away in bad health. As a government, we have shone the torch of transformation in this sector through the provision of free medical care for children, pregnant women and the aged in our society. We have also gone a step further to massively improve health infrastructures, build new health facilities where non existed, supplied drugs and medical equipment to health institutions to facilitate urgent interventions. Particularly work is at an advanced stage in our Ibom Specialist Hospital, while we have built and completed five new cottage hospitals, renovated many primary and secondary health institutions, built a Pediatric Ward in the University of Uyo Teaching Hospital and done a lot more than time would permit us to mention.
These efforts have yielded enormous result as we have not recorded any incident of polio in the state within the last five years, and the issue of infant and maternal mortality has been reduced by over 85 percent.
EDUCATION:
Nelson Mandela once said "Education is the most powerful weapon which you can use to change the world." Education is not only about the impartation of knowledge, but also about societal continuity in preparing our children to inherit and utilize our legacies. It is therefore an important part of the social contract between the government and the citizenry.

The United Nations' Universal Declaration of Human Rights, Article 26 asserts that, "Everyone has the right to education. Education shall be free, at least in the elementary and fundamental stages. Elementary education shall be compulsory." This espouses the right of every citizen, poor or rich, to enjoy access to education of good quality, without discrimination or exclusion. It obliges governments to fulfill this expectation both legally and politically with respect to providing accessible education of good quality for all.
We also draw inspiration from the word of Walter Cronkite that "Whatever the cost of our libraries, the price is cheap compared to that of an ignorant nation." Since 2008, education has been free and compulsory for all children resident in Akwa Ibom State from primary to senior secondary school. This has led to school enrolment being tripled. However, to enhance the quality of education, we provided a conducive atmosphere for learning by embarking on a massive renovation and construction of classroom blocks and provision of books and other learning kits. So far more than 2,500 school blocks have been rehabilitated and reconstructed.
The construction of the Ibom E-library, which is the first of its kind in West Africa was meant to complement our Free and compulsory Education Policy, and boost the ICT knowledge of our children. Available in the e-library are over 16 million e-documents composed of two million electronic books, which are fully downloadable, and over 14 million research e-journals. It also offers Internet services up to 5km radius and has mobile cybercafés to engage rural communities in ICT. Its main objective is to make Akwa Ibom State an ICT knowledge hub in the next five years.
Good governance ensures that the people are kept abreast of, and tap into, technological developments in the world. In fact, we have invested massively in this sector and the result abounds in engendered interest in ICT in the state.
In addition we established the Akwa Ibom State University and it commenced academic activities in 2009.
PROVISION OF INFRASTRUCTURE
Within the last six years of my administration, we have transformed our State to one of the preferred destinations in Nigeria. We have constructed over 300 urban roads, over 20 bridges and four flyovers. We have tarred over 1,200 km of roads, out of which 300 km are Federal Roads. We believe that good roads are a right of the people and this right should not be mortgaged on the basis of whether it is a federal or state road.
We also completed the Ibom International Airport (which we met at site-clearing level), completed the first phase of Ibom Independent Power Plant (which we met at 65 percent level of completion) and partnered and built the Gas Plant (the first Private sector/government partnership gas plant in Nigeria). There is also the Ibom Tropicana Entertainment Galleria with a 14 storey, 250 room capacity Five-State Hotel Complex and a 5,000 seater International Convention Centre, which is under construction. The Cineplex Part of the Ibom Tropicana Entertainment Centre had since been completed and is in use.
In addition we have undertaken the electrification of almost all the communities in the State, reaching over 87 per cent coverage, while the national average is 19 percent and the African average is 5 percent. We have done over 4,000 Inter-ministerial Direct labour projects across all the Local Governments in the State as stated earlier.
In the whole, transformation is a duty and an obligation that is expected of every government. Akwa Ibom State has proven that government can work and that government can affect people positively through deliberate and consecutive all round transformation.
Let me share this with you. Hours before his assassination, Mahatma Ghandi, gave his son a piece of paper which he said contained the seven blunders of the world. These were: Wealth without work; Pleasure without conscience; Knowledge without character; Commerce without morality; Science without humanity; Worship without sacrifice; Politics without principles.
I believe that at issue in providing good governance are these seven blunders. Wealth must come from work – not corruption. Pleasure should not be selfish – it must come with conscience. Knowledge without character leads to manipulation. Politics must be guided by principles because what is morally wrong cannot be politically right. Commerce must be run with the fear of God, because a good name is better than gold. Science should save life – not devise ways to destroy it. Worship should be in the sacrifice of self for the common good so that God is glorified – not in suicide bombing. To this list his grandson, Arum Ghandi, added an 8th blunder – "rights without responsibilities." Let us exercise our rights as citizens with a responsibility to be our brother's keepers.
Ladies and gentlemen, in past years people used to say that the Niger Delta States were collecting much money and doing little. Now people are saying that we have done so much that they wonder where the money is coming from.
Perhaps a story would explain our motivations to you better than everything I have said. A certain professor requested his students to undertake a study of some wayward, crime-inclined boys in the school's neighborhood. All the students came up with the conclusion that all the boys would end up in prison and would never amount to much. Twenty years after that study, another professor stumbled on the study and decided to find out what happened to those boys. He discovered that all of them made good and became successful lawyers, doctors, officers in the army etc. He called them one after the other, and asked them what turned their lives around. They all said it was one teacher.
The professor called the teacher and asked her, "How did you turn the lives of those bad boys around?" Surprised at the question she shrugged and said simply, "I do not know how I did it, all I know is that I loved those boys."
How are we embarking on the uncommon transformation of my state? The best answer is that I love my people, I love this country, I love humanity. I was driven by anger at the plight of our people and the decayed infrastructure and the servitude of our children. The intention from the outset was never to gain accolades and praises. We were moved by love and compassion for the well being of our people. We were driven righteous indignation to reform our state. The love of our people and positive anger at the sorry state we met them impelled us to the heights we have attained; these are the secrets behind the Uncommon Transformation. It is why we have proven that Government can be a veritable agent of development and transformation. This is how our state has become a model State where Governance and Transformation meet.
Thank you.


Disclaimer:

"The views/contents expressed in this article are the sole responsibility of the author(s) and do not necessarily reflect those of The Nigerian Voice. The Nigerian Voice will not be responsible or liable for any inaccurate or incorrect statements contained in this article."
Articles by thewillnigeria.com