Meet Titilola Osinowo an Actress with a charming look but always ready to bring out her crazy side to the camera...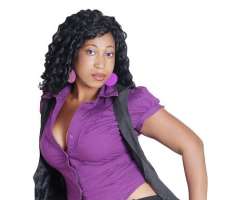 Titilola Osinowo is an Actress.She hails from Ogun State, Nigeria. She is presently a 500 level English studying student at the Tai Solarin University of Education, Ijebu.
Her love for acting made her give it a try in 2006 when she played a minor role in a movie titled 'Ese Aimodi' produced by Toyin Aimakhu and after that she realized she would love to concentrate in it, Started acting professionally in 2007.
She has featured in Valley Between, Family Ties, Papa Ajasco, Crack in the Wall, and also yoruba films like Ese aimodi, eja tutu, igboro ti daru, awokose, motaka osi danu just to mention but a few...
Titi is a very cool, friendly, determined and God-Fearing person. She has this striking innocent look but it would shock you when you realize she actually love to play wild roles but not nudity though, crazy and action packed roles. She claims her personality makes her stand out from her colleagues, the speed at which she gets her line and into any given character.
CLICK HERE FOR MORE PICTURES