Osun to reconstitute state electoral commission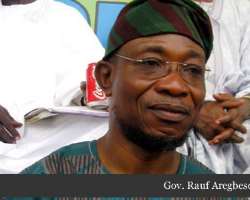 The Osun Government said on Friday that it would re-constitute the state Independent Electoral Commission to democratise the local government administration in the state.
The state's Attorney-General and Commissioner for Justice, Mr Wale Afolabi, told the News Agency of Nigeria (NAN) in Osogbo that the list of nominees would be sent to the House of Assembly for approval.
"The governor is already working on it. It is a long process, but soon, the commission will be constituted in preparation for local government election.''
On the legal tussle hindering the setting up of the commission, Afolabi explained that "we are now at a stage where the court is not restraining us''.
Afolabi said that former members of the commission, under Prince Olagunsoye Oyinlola's administration, had challenged the dissolution of the organisation by Gov. Rauf Aregbesola.
He said that the former commissioners urged the court to restrain the composition of a new electoral body.
"After losing at the lower court, the former members went to the appeal court.
"The case is now at the Supreme Court and the former members filed an appeal 'simplicita'; by this, all they are asking for is reinstatement and not restraining us from constituting a new commission.''
He said that the government had not done anything criminal by appointing caretaker committees to administer local governments in the state.
Afolabi also said the government followed due process through the legislature by changing the nomenclature of local government executives from chairmen to "executive secretaries''.