Thomas Cook Flags Return To Dividends After Refinancing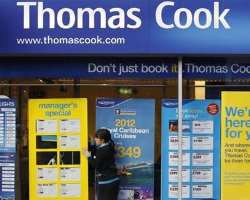 Thomas Cook (TCG.L) unveiled a 1.6 billion pound ($2.4 billion) refinancing plan on Thursday designed to cut debt and enable it to resume paying dividends in the latest stage of a turnaround at the world's oldest travel firm.
The 172-year old group is recovering after a dramatic slump in sales over the last two years, hit by the euro zone debt crisis, high fuel costs and social and political turmoil in popular holiday destinations such as Greece, Egypt and Tunisia.
Since travel industry outsider Harriet Green took over as CEO a year ago, the firm has seen a steady improvement in its finances following job cuts, store closures and a series of disposals to slash its debt, which stands at 1.2 billion pounds.
"This refinancing will reduce the very significant debt that we inherited, lengthen its repayment profile and help us deliver the full benefits of our strategic plan," Green told reporters.
"At the end of the 2015 financial year we'll be in a position to start thinking about resuming the dividend."
Thomas Cook hopes to raise around 305 million pounds from an issue of 401.5 million new shares through a rights offer of two new shares for every five held by shareholders at 76 pence each. A further 120 million pounds is to be raised via a placing of 87.5 million shares worth 137 pence. It will also issue 441 million pounds of new bonds, and has agreed 691 million pounds of new banking facilities.
The news sent Thomas Cook shares as high as 162.3 pence in early trade, their highest level in two years. By 0950 GMT the stock was 9.7 percent up at 158.8 pence, giving it a market value of 1.4 billion pounds.
"The refinancing puts the business on a much firmer footing," said Peel Hunt analyst Nick Batram. "It could be argued that what has been delivered thus far were the easy wins but this would be harsh and, with the potential for further cost savings and the improved capital position, further outperformance is likely."
ONLINE FOCUS
The tour operator is halfway through a three-year turnaround plan, which will see it cut 2,500 jobs and close 195 underperforming stores in Britain and consolidate its airline operations. Green has pledged to boost profits by $500 million in the next three years by moving more of its operations online.
A quarter of 2012 sales were made online, trailing TUI Travel (TT.L), which made a third of its sales via the web. To eat into that gap, the company plans to reduce its online brands to three in the UK and one in Germany, improve the performance of its websites and extend products offered online.
The refinancing came as Thomas Cook said its loss before tax for the six months to the end of March fell to 390.9 million pounds from a loss of 584.1 million pounds in the same period a year ago, helped by cost cutting measures and a better performance by its British business.
Green, who has removed 107 million pounds of costs from the business since arriving from electronic parts maker Premier Farnell (PFL.L) last year, expects to have gained a total of 390 million pounds from cost-cutting by 2016.
Underlying margins improved 110 basis points to 20.7 percent compared with the same period last year, it said.
On the trading front, it said it had sold around 60 percent of planned capacity for summer 2013, 2 percent higher than at the same time last year.
($1 = 0.6568 British pounds)
REUTERS