I Am Not Afraid Of Rape--Omotola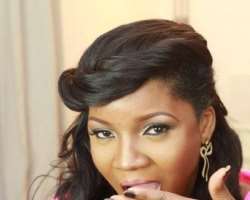 Omotola Jalade Ekeinde is one actress that remains sexy and classy despite being a mother of four grown up children. She competes easily with most single stars in the razzmatazz industry in Nigeria, commanding a large number of secret male admirers.
In an industry, where many male fans would do everything possible to get any female celebrity they admire, there is no doubt that Omotola would not be left out of such.
Though not in the news with romance scandals, it is very certain that the queen of Nollywood and one of the 100 most influential people in the world, according to TIME Magazine, had been in situations, where she would have to chase male admirers away.
Speaking on the issue, the glamorous actress admitted that she has male fans, who want more than friendship from her, adding that she deals with the issue in her own way.
According to the delectable Ondo State-born movie superstar, "when you (men) hang around for a while and you don't get anything, you will decide what you want to do (laughs)."
She added that, "I don't think you have to run from anybody, nobody is going to come and rape you. So, it is not a life or death situation. It is as simple as two adults, three friends, and after a while, if one has an ulterior motive, understanding that it's not going to happen, then you can handle it with maturity.
"So, they will decide whether to stick around or go away. Why do we have to fight in the process?"