Gov. Obi Flags-off 9 Billion Naira Major Road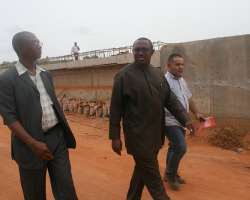 Gov. Peter Obi ( middle); the State Commissioner for Works, Arc Callistus Ilozumba (left) and the the rep of the contractor during the 3 Bridges and 30 culverts at one of the bridges during the inspection of work.
The joy of the people of Ozubulu and Atani in Anambra State knew no bounds yesterday with the flag-off of the 9 Billion Naira road project, Ozubulu-Atani road. Already, the three major bridges on the road, replacing the old ones built by the colonialists and the 30 culverts started in November of 2012 that are all 90% completed. Gov. Obi who inspected the three bridges of about 40 meters each before the flag-off of the road expressed happiness at the pace and progress of work. He said that the same speed with which the bridges were built would apply to the building of the roads. " For the roads to be completed within record time, we have engaged three tested contractors. While one is doing the bridges and culverts, one will start the actual road from Ozubulu end which we are commissioning today, while the remaining contractor will soon start from Atani end of the road.Calling on the people to take ownership of the project, he advised them to be interested in people that put themselves up for governance. "Electioneering is approaching, men of diverse characters are putting themselves forward to become Governors. Some of them are without character, some are devoid of the temperament to become Governors, while some do not even understand what the office is all about. Some are prancing all over the place thinking that indiscretion in spending of money is a substitute for merit. Shine your eyes, Obi said.
Earlier in his remarks, the State Commissioner for Works, Arc Callistus Ilozumba said that the road with its 3 bridges and more than 30 box culverts would cost the State 9 Billion Naira, assuring that with three contractors on the road, that it would be completed.
The Commissioner said that the road was costly because of its terrain, which would involve a lot of engineering work. He said that no Governor since the creation of Anambra State worked on roads with such terrain in the State because of capital involvement. "This Government," he said, "is working on many such roads as the roads in Anambra East and West and Ogbaru."
The flag- off was witnessed by many Ozubulu people that returned home For the event. Speaking, Mr. Chinedu Okeke said it was thing of joy to witness what real governance as shown by Obi was.