2015: Ronnie Dikko Runs To Rekindle Flame With Koro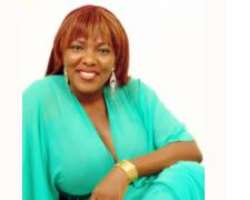 Long before now a relationship existed between Lagos born politician Ambassador Musiliu Olatunde Obanikoro and Ronnie Dikko. So, if you were never aware about this relationship between the two, you probably don't know about the goings in the life of the top Nollywood practitioner popularly called Ronnie.
During the time Koro was clamouring to become the number one citizen of his state, Ronnie was said to have given him the necessary support and all the attention needed to achieve his cause. As soon as the dream was dashed, the relationship just fizzled out and both went their separate ways.
With everyday bringing us closer to another electioneering year come 2015, the political race is set to begin in earnest, there are talks here and there that Ronnie is now getting herself prepared to crawl back to the Lagos born politician, truly, it's obvious there are neither permanent friends or enemies in politics.
Don't be surprised if suddenly, our amiable movie maker, Ronnie becomes a PDP official come 2015, she has worked very well for the party's special candidates like Koro and others to be reward specially too.