Three Blasts Kill 11 In Iraqi Capital: Police, Medics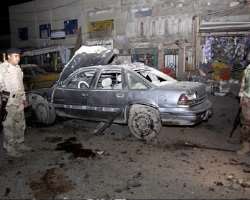 At least 11 people were killed in three bomb explosions in the Iraqi capital Baghdad on Monday, medics and police said.
Iraq has become increasingly volatile with fragile relations between Sunni and Shi'ite Muslims under strain from the largely sectarian civil war in neighboring Syria. Tensions are at their highest since U.S. troops pulled out of Iraq at the end of 2011.
Two car bombs exploded near police checkpoints at the entrance to the Shi'ite district of Hussainiya in the north of the city, killing one policeman and seven civilians.
A third bomb near a restaurant frequented by police killed three civilians in the southern district of Doura, medics and police said. At least 33 people were wounded in the three attacks.
No group immediately claimed responsibility for the blasts.
Iraq is home to a number of Sunni Islamist insurgent groups including a local al Qaeda affiliate that has launched regular attacks to undermine the Shi'ite-led government and provoke wider confrontation.
Violence is still well below its height in 2006-07. But April was the bloodiest month since 2008, with 712 people killed in bombings and other violence, the United Nations Iraq mission said last week. About 1,500 people have been killed this year.
REUTERS