Facebook's Mobile Business Expands In First Quarter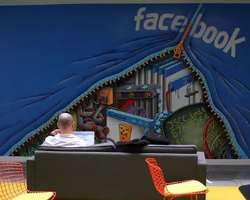 Facebook Inc's mobile advertising revenue growth gained momentum in the first three months of the year as the social network sold more ads to users on smartphones and tablets, partially offsetting higher spending which weighed on profits.
New types of ads designed for smartphones, particularly ads aimed at enticing Facebook users to install mobile apps on their phones, helped lift revenue while traffic to the social network remained strong.
The results reassured Wall Street that the world's largest social network was keeping up with consumers' shift from PCs to smartphones, even if the company provided few big surprises during the first quarter.
Mobile ad revenue accounted for 30 percent of Facebook's ad revenue in the first quarter, compared to roughly 23 percent in the fourth quarter. Sales of ads on mobile devices have been a key element in the recovery of Facebook's overall ad revenue from a sharp slowdown early last year.
The first-quarter mobile ad revenue was at the higher end of expectations, said Macquarie Research analyst Ben Schachter. But he said it "needed to be higher for people to get really excited about trend lines".
Shares of Facebook, which are down roughly 12 percent since the end of January, were up 7 cents at $27.50 in after-hours trading on Wednesday.
"Everyone was focused on two things, one was mobile and how big it could be, and the other thing was engagement," said Ronald Josey, an analyst with JMP Securities.
Facebook delivered solid results on both fronts, Josey said, noting that consumers' use of Facebook does not appear to have declined despite a growing array of popular social networking and mobile messaging alternative services, such as Pinterest and WhatsApp.
Mark Zuckerberg, Facebook's 28-year-old co-founder and chief executive, told investors on a conference call on Wednesday that there was room for Facebook and rival services to thrive. He said mobile photo-sharing service Instagram, which Facebook acquired last year, was now growing faster than Facebook did at a similar stage in its history.
Facebook said it now counted 1.11 billion monthly active users and about 665 million daily active users.
The company said the number of monthly users who logged on solely through mobile devices more than doubled to 189 million users from a year ago.
Graphic: link.reuters.com/ryp77t
NEW AD PRODUCTS
Created in a Harvard dorm room in 2004, Facebook, along with other established Internet companies such as Google Inc and Yahoo Inc, are moving to reposition their businesses for a world in which consumers' primary Internet access occurs on small-screened smartphones rather than PCs.
Facebook has rolled out a string of big product launches and revamps in recent months, including an overhaul of its newsfeed and search feature, as well an app for Android smartphones that puts Facebook features front and center on phone homescreens.
The various initiatives have contributed to rising spending, with Facebook's 60 percent year-on-year increase in costs and expenses outpacing the 38 percent revenue increase.
Facebook said it earned $219 million, or 9 cents a share, in the first three months of the year, compared to $205 million, or 9 cents a share, in the year-ago period.
Excluding certain items, Facebook said it earned 12 cents a share. Analysts polled by Thomson Reuters I/B/E/S were looking for adjusted EPS of 13 cents.
Facebook executives reiterated previous guidance that spending would be up in 2013 as the company invests in new products and in improving the efficacy of its ads.
One nascent type of mobile advertising pioneered by Facebook — ads that encourage users to install third-party apps — could grow meaningfully, Zuckerberg said.
"We're starting to see real revenue from mobile app installs," Zuckerberg said, without giving details. "It's one of our most important new ad products."
Facebook's revenue in the first quarter totaled $1.46 billion, versus $1.06 billion in the year-ago period, and roughly in line with analyst expectations. Advertising revenue was up 43 percent in the first quarter, the fastest growth rate since the end of 2011.
"You are seeing pretty strong revenue growth right now," said Raymond James analyst Aaron Kessler. But he warned that the revenue growth could slow in coming quarters as Facebook faces tougher year-on-year comparisons.
REUTERS